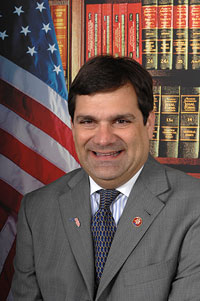 Washington, D.C. - Statement by AHEPA Supreme President Gus J. James, II, about the appointment of US House of Representative Gus Bilirakis (FL) to the House Committee on Foreign Affairs for the 110th Congress:

"We applaud the appointment of Congressman Bilirakis to the House Committee on Foreign Affairs, his third committee assignment. Thus far, in the 110th Congress, Rep. Bilirakis has proved to be an excellent proponent for Greek-American causes and we can be sure that issues that matter to Americans of Greek descent are well represented in the 110th Congress. As a Greek-American and an AHEPA member, we are very proud of Congressman Bilirakis."

The House Committee on Foreign Affairs deal in relations with foreign countries, international economic policy, protecting American citizens abroad, as well as handling U.S. foreign intervention and declarations of war.

---

(Posting date 12 May 2007)

About AHEPA

The American Hellenic Educational Progressive Association (AHEPA) is the largest and oldest American-based, Greek heritage grassroots membership organization. Its scope is international with chapters in the United States, Canada, Greece, and Cyprus, and "sister" chapters in Australia and New Zealand under the auspices of AHEPA Australasia. AHEPA was founded on July 26, 1922 in response to the evils of bigotry and racism that emerged in early 20th century American society. It also helped Greek immigrants assimilate into society. AHEPA has joined with the NAACP and B'nai B'rith to fight discrimination.

Today, AHEPA promotes the ideals of ancient Greece, which includes philanthropy, education, civic responsibility, and family and individual excellence through community service and volunteerism. The AHEPA family consists of four organizations: AHEPA, Daughters of Penelope, Sons of Pericles and Maids of Athena. For more information about the organization or how to join, contact AHEPA Headquarters (202-232-6300) or visit the organization's newly redesigned website at http://www.ahepa.org.

HCS maintains an extensive archives of AHEPA articles and press releases which readers are invited to browse under the AHEPA Family Releases section of the site archives at http://www.helleniccomserve.com/archiveahepa.html.


---