Johnny N. Economy Scholarship Among 37 Awarded by Atlanta AHEPA Chapter
Local Foundation Awards $33,050 in Scholarships


ATLANTA (August 1, 2007)—The AHEPA Mother Lodge Chapter No. 1 Educational Fund, Inc., Atlanta, selected 37 students to be recipients of scholarships for 2007, including one for the Johnny N. Economy Scholarship named in honor of the AHEPA Past Supreme President, philanthropist, and community leader. The scholarships were presented at a ceremony held June 24.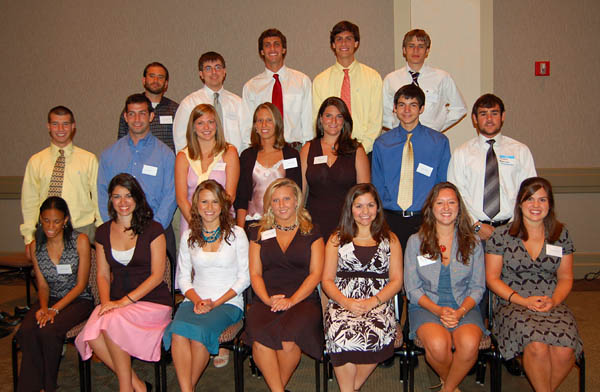 The AHEPA Mother Lodge Chapter No. 1 Educational Fund, Inc., scholarship recipients for 2007.


"We are extremely proud to recognize these outstanding young individuals for their scholastic excellence by helping them to continue the pursuit of their academic dreams and goals with a scholarship award," said Foundation Chairman Thomas Kantsios. "This year, we awarded a total of $33,050 in scholarships."

Christina M. Tognoni, a rising junior at Wellesley College, received the 2007 Johnny N. Economy Scholarship.

"Thank you for the honor of receiving this scholarship," she said. "It eases my financial worries and helps me accomplish my academic goals."

Tognoni, a native of Duluth, Ga., is a Neuroscience and Spanish double major who is currently participating in a summer internship at Duke University's Mechanisms of Behavior Program for neuroscience.

"We received eight applications from outside of the Atlanta area for the Johnny Economy scholarship which is great and we'd like to encourage more students to apply from across the nation," said Athena Economy, a Foundation Director, who cited that applicants were from as far away as Chicago and Boston. "Our goal is to aim for more national participation next year."

The Keynote speaker for the event was Peter Zervakos, principal, Northview High School. Damon Limberis chaired the awards ceremony.

The AHEPA Mother Lodge Chapter No. 1 Educational Fund, Inc. was established in 1986. Chairman Kantsios is supported by Vice Chairman Dr. George Patterson. Moreover, current Grand President of the Daughters of Penelope Karen Stamatiades serves as a Director on the Foundation. She has established a scholarship in her husband John's memory.

The Foundation has awarded more than 350 scholarships totaling $291,650 to deserving students for scholastic achievement and financial need. Contributions are tax deductible and can be made to the general fund or any specified endowment. Checks should be made out to the AHEPA Mother Lodge Chapter No. 1 Educational Fund, Inc., and mailed to: Dr. Pandeli Durbetaki, Treasurer, 317 Omega Way, Hiawassee, GA 30546-2309. Contact Dr. Durbetaki via email, pd317@windstream.net, for more information.
}
---

(Posting date 11 June 2007)

HCS encourages readers to view other articles and releases in our permanent, extensive archives at the URL http://www.helleniccomserve.com/contents.html. See especially articles about AHEPA, or visit the URL http://www.ahepa.org for more information about the organization.


---

2000 © Hellenic Communication Service, L.L.C. All Rights Reserved.
http://www.HellenicComServe.com