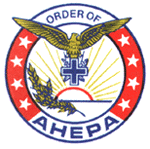 AHEPA: Second Week of Overseas
Visitations Commences

After Success in Athens, Nicosia, the Delegation
Heads to Thessaloniki, Patriarchate


THESSALONIKI, Greece-The American Hellenic Educational Progressive Association (AHEPA), the nation's largest association of American citizens of Greek heritage and Philhellenes, arrived in Thessaloniki from Cyprus recently to commence the second and final week of the 78th Annual AHEPA Family Excursion.

"Our visit to Cyprus was a productive and emotional one for our entire delegation," said Supreme President Gus J. James, II, a native of Cyprus, who along with his wife, Mary, found his grandmother's gravesite in occupied Cyprus. "I believe Cyprus is always an eye-opening experience for our members and their families even if it is their second or third time visiting it."

The delegation toured the "Green Line" and ventured north through occupied Cyprus reaching Apostolos Andreas monastery. It was the second time James returned to the occupied area. In 2001, he accompanied then Supreme President Johnny N. Economy on a groundbreaking goodwill visit to the occupied area where he located his father's gravesite.

On April 14, AHEPA hosted a reception honoring the Republic of Cyprus with the AHEPA Spirit of Hellenism Award and Mr. George Paraskevaides with the AHEPA Philanthropy Award.

"In keeping with our goal for the excursion, we wanted to honor the Republic of Cyprus for its contributions to Hellenism and its ability to perpetuate the principles and values of Hellenism through very challenging periods of the island's history," said James. "And George Paraskevaides' philanthropic contributions to society are immense and carry meaning to people's everyday lives. His honor is long overdue."

Moreover, the delegation met with American Ambassador to the Republic of Cyprus Ronald L. Schlicher, who hosted the delegation for a reception; Nicosia Mayor Michael Zampelas, and attended Palm Sunday services with the Bishop of Kykkos.

In Thessaloniki, the delegation attended a welcome reception and dinner held in its honor by the Minister for Macedonia-Thrace Georgios Kalantzis and Mayor Vasilios Papageorgopoulos. The group plans to tour the AHEPA Hospital where Supreme President James will present a $50,000 contribution to hospital administrators.

The delegation will remain in Thessaloniki until Thursday, April 20 when it departs for the Ecumenical Patriarchate where it will visit the Theological School at Halki, have an audience with His All Holiness Ecumenical Patriarch Bartholomew I, and attend services for Pascha.


---

(Posted April 2006)

The American Hellenic Educational Progressive Association (AHEPA) is the largest and oldest American-based, Greek heritage grassroots membership organization. Its scope is international with chapters in the United States, Canada, Greece, and Cyprus, and "sister" chapters in Australia and New Zealand under the auspices of AHEPA Australasia. AHEPA was founded on July 26, 1922 in response to the evils of bigotry and racism that emerged in early 20th century American society. It also helped Greek immigrants assimilate into society. Today, AHEPA brings the ideals of ancient Greece, which includes philanthropy, education, civic responsibility, and family and individual excellence to the community. The AHEPA family consists of four organizations: AHEPA, Daughters of Penelope, Sons of Pericles and Maids of Athena. For more information about the organization or how to join, contact AHEPA Headquarters (202-232-6300) or visit the organization's newly redesigned website at http://www.ahepa.org.

HCS maintains an extensive archives of AHEPA articles and press releases which readers are invited to browse under the AHEPA Family Releases section of the site archives at http://www.helleniccomserve.com/archiveahepa.html.


---