AHEPA Delegation Elects Dimitriou Supreme President

---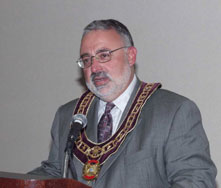 Dr. James F. Dimitrou was elected Supreme President of AHEPA for the 2002-2003 year.

NEW YORK-The delegates of the American Hellenic Educational Progressive Association (AHEPA), the largest and oldest association of Americans of Greek heritage and Philhellenes, elected Dr. James F. Dimitriou, Palos Verdes Estates, Calif., Supreme President for the 2002-2003 year.

"AHEPA means to us the greatness of Hellenism and the greatness of the American Dream," said Dr. Dimitriou following his installation ceremony.


Fittingly in New York, it was 98-years ago when his grandfather arrived at Ellis Island.

The newly elected supreme president served two terms as Supreme Vice-President. He also held the offices and appointed positions of: Supreme Secretary, Supreme Treasurer, AHEPA Educational Foundation Chairman, and AHEPA Cyprus and Hellenic Affairs Committee Chairman. Dr. Dimitriou is a 32-year member of AHEPA, serving in South Bay Chapter No. 426.

He ran on a platform titled, "Greek Fire: A 10 Point Strategic Plan for the Order of AHEPA 'Preserving the Spirit of Hellenism Within the Context of the American Dream.'" It is a vision that spans the next five years.

Supreme President Dimitriou has served the Greek American community in a variety of roles, including involvement on the Parish Council of St. Katherine's Greek Orthodox Church, Redondo Beach, Calif.; the Pan Macedonian Society, and the local Hellenic Cultural Society. He is a founder of the Greek Heritage Society; has served as President of AHI, Los Angeles; he has been the Executive Director of the Axios Foundation; he was a founding board member of the Save Cyprus Council and serves as a long time President of the Marmarinon Benevolent Society.

Dr. Dimitriou has a Doctorate in International Studies, and two Masters Degrees, all from the University of Southern California. His current efforts in education are centered on reestablishing the study of Greece and Western Civilization throughout the curriculum of our Public Schools.

Supreme Lodge and Board of Directors

A. Jack Georgalas, Seaford, Va., was elected Supreme Vice-President.
Georgalas served two years as AHEPA Chairman of the Board and as Chairman of the AHEPA Cyprus and Hellenic Affairs Committee.

The balance of the newly elected Supreme Lodge is as follows: Lazarus Kalipolidis, Laval, Quebec, as Canadian President; Nick Alexander, Columbus, Ohio, was re-elected Supreme Secretary; George Demopoulos, Massapequa, N.Y., Supreme Treasurer; Nicholas A. Karacostas, Flushing, N.Y., was re-elected Supreme Counselor; and Dr. Monthe N. Kofos, Marlboro, Mass., was re-elected Supreme Athletic Director.

The eight Supreme Governors are: Nickolas Ballas, Charlotte, N.C.; Domino Giallourakis, Dunedin, Fla.; Tom Owens, Petersburg, Va.; Stan Lefes, Sharon, Pa.; Lyle Hochberger, Oxnard, Calif.; Kostas G. Hazifotis, San Jose, Calif.; George Kalyvas, Yonkers, N.Y.; and Tom Pappas, Fair Lawn, N.J. Ballas, Giallourakis, Owens, and Lefes were all re-elected.

In addition, three new members were elected to the AHEPA Board of Directors. They are: Past Supreme President Lee Rallis, Denver; and Past Supreme Counselors Gus J. James, Virginia Beach, Va.; and Manuel P. Scarmoutsos, Memphis, Tenn. Rallis was elected Chairman of the Board, Ike Gulas, Birmingham, Ala., was elected Vice-Chairman, and James was elected Secretary.

AHEPA Family Elections

The remaining organizations that comprise the AHEPA family also held elections. Evellyn Tsiadis, Woodbridge, N.J., was elected Daughters of Penelope Grand President. Sandy Papadopoulos, was elected Supreme President of the Sons of Pericles and Katherine Papadimitriou was re-elected Grand President of the Maids of Athena. Both Papadopoulos and Papadimitriou are from Atlanta.