AHEPA Hosted by Archbishop Demetrios,
Common Issues Discussed

Supreme President Visits with Greek Daily Newspaper;
Ahepans of New York, New Jersey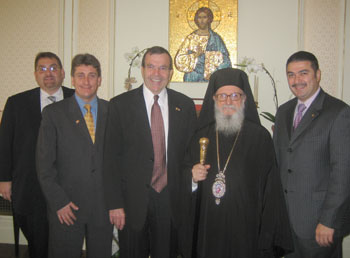 Pictured are: Executive Director Basil N. Mossaidis, District 6
Governor Dean Highland, Supreme President Gus J. James,
Archbishop Demetrios, and Board of Trustee Member
Nicholas Karacostas.

NEW YORK—Supreme President Gus J. James, II, met with His Eminence Archbishop Demetrios at the Greek Orthodox Archdiocese on Friday, November 11, 2005 to discuss issues of mutual importance to the Greek American community.

"We were extremely well received by His Eminence and we are grateful for our close relationship," James said. "We explored ways to involve Archbishop Demetrios at upcoming national events we will be hosting. Our membership always welcomes his inspirational and scholarly perspectives on Orthodoxy and Hellenism."

According to the supreme president, AHEPA has invited His Eminence to participate during the 37th National Salute Weekend of events, March 10-12, 2006 in Washington and at the 84th Supreme Convention, July 26-30, 2006, in Hollywood, Fla.

In addition, James offered the AHEPA family's commitment to participate at Epiphany celebrations in Tarpon Springs, Fla., for the historic visit of His All Holiness Ecumenical Patriarch Bartholomew.

"Anywhere we can lend our support to the Archdiocese, and the Ecumenical Patriarchate, we will," he said. James, an Archon of the Order of St. Andrew, offered AHEPA's concern about recent protests staged outside the Ecumenical Patriarchate.

Additionally, James' visit to New York took him to the new editorial offices of Ethnikos Kyrika/The National Herald where he met with Publisher Antonis Diamataris and offered congratulations for the publication's accomplishments and years of service to the community.

Over the weekend, James visited with Ahepans from District 6 (New York) and District 5 (New Jersey and Delaware) to promote membership initiatives and the "Voice of Hellenism" campaign.

---

The American Hellenic Educational Progressive Association (AHEPA) is the largest and oldest American-based, Greek heritage grassroots membership organization. Its scope is international with chapters in the United States, Canada, Greece, and Cyprus, and "sister" chapters in Australia and New Zealand under the auspices of AHEPA Australasia. AHEPA was founded on July 26, 1922 in response to the evils of bigotry and racism that emerged in early 20th century American society. It also helped Greek immigrants assimilate into society. Today, AHEPA brings the ideals of ancient Greece, which includes philanthropy, education, civic responsibility, and family and individual excellence to the community. The AHEPA family consists of four organizations: AHEPA, Daughters of Penelope, Sons of Pericles and Maids of Athena. For more information about the organization or how to join, contact AHEPA Headquarters (202-232-6300) or visit the organization's newly redesigned website at http://www.ahepa.org.

HCS maintains an extensive archives of AHEPA articles and press releases which readers are invited to browse under the AHEPA Family Releases section of the site archives at http://www.helleniccomserve.com/archiveahepa.html.


---


2000 © Hellenic Communication Service, L.L.C. All Rights Reserved.
http://www.HellenicComServe.com