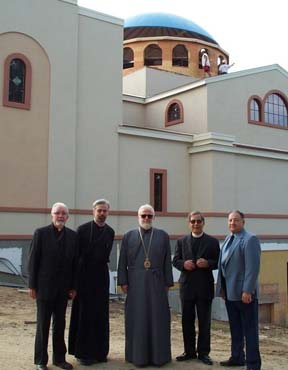 (left to right) Rev. Philip Gialopsos, (Former pastor of Assumption Church, now retired); V. Rev. Timothy Kapsalis (Pastor of Holy Trinity Church, Lowell); His Eminence Metropolitan Methodios; Rev. George Karahalios, Pastor of Assumption Church; and Nicolas Genakos, President of Assumption Church.

Assumption Raises Dome and Cross on New Church
On Thursday, September 19, 2002, Assumption of the Virgin Mary Greek Orthodox Church raised the domes and cross atop its new church. The Assumption Church was devastated by fire three years ago, at its location on Butterfield Street in Lowell, MA. The new church is at 1160 Mammoth Road in Dracut Massachusetts.

Doors will open in November 2002. For more information, visit the church webpage at paulinema.tripod.com/assumption

[edd--Emmanuel Flaris of the Assumption community sent an update on 26 July 2005 to Hellenic Communication Service on the location of the new church and the URL of the community's web pages:


ALEA III International Competition: 20th Anniversary
Final Round

A concert by ALEA III will be held this coming Sunday, September 29, 2002, at 7:00 PM at the Tsai Performance Center, 685 Commonwealth Avenue. Admission is free.

This year marks the 20th anniversary of the ALEA III International Composition Competition for young composers, an event which brings to the Boston audience some of the newest music worldwide.

Theodore Antoniou will be conducting premiere performances of six works that were selected among the 160 entries submitted by composers from 35 countries around the world.

The finalists are:

Mei-Fang Lin (Taiwan)
Time Tracks

Timothy Melbinger (USA)
Clarinet Quintet

Panagiotis Liaropoulos (Greece)
Orientations Beta

Orie Sato (Japan)
Last Words

Sara Carvalho (Portugal)
nothing can both be and not be

Diego Vega (Colombia)
Movement for Piano and Chamber Orchestra

Following the concert the ALEA III Prize of $2,500.00 will be awarded. For this year there will be an additional 20th Anniversary Prize of $1,500.00.