Ann Welch divides her time between Vatoussa, Lesvos and a small village in England. She first came to Vatoussa almost thirty years ago, and despite her British background and otherwise wide travels she considers herself a local artist, an artist especially attracted to local subjects of Lesvos in general and of Vatoussa and its environs in particular. One large strain of her work, most evident in her watercolors and certain oils, shows a preference for natural settings and subjects which life in a village such as Vatoussa provides, not only in the unspoiled beauty of the local landscape, but also in the spirit of Vatoussan life itself. The people of Vatoussa never fail to identify the familiar scenes and live models from her paintings, but visitors to Lesvos and others abroad also appear to appreciate the way her work captures the character and attractions of village life.
Ann was born in Manchester, England in 1947. He education in art includes study at Pratt Institute, Parsons School of Design, the School of Visual Arts in New York, Kingston School of Art, and The School of Sacred Art at New York University. She also studied fresco at Accademia Caerite in Rome. She studied iconography with Kostas Skordelis, Vladislav Andreyev, and Father Dimitri Economou, Byzantine art techniques with Barbara Meise, and watercolor with several distinguished teachers, including Frank Webb. She studied oil painting with Nick Tidnam and Nicholas Buhalis, and her work owes much to Buhalis, but no artist could acquire such versatility across so many media without a strong autodidactic streak.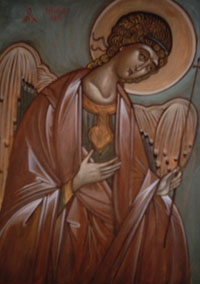 Her earliest interest in art was in fabric design, her main influence in this respect being William Morris. Her first employment was in the fashion industry. She worked at Liberty of London, the pioneer firm in fabric design. She also worked as a free-lance fabric designer, making designs by the process called batik. Her interest in this his medium led her to study batik in Indonesia. her artistry developed, and her batik became good enough to be exhibited in juried shows throughout the United States at galleries and prestigious museums in major cities. A leading journal of the fiber arts identified her as a contemporary master of batik, and featured her work on its cover. Her work has been cited and reproduced in several books as first-rate examples of her craft. Yet she also wished to work with watercolors, and was a member of the Brooklyn Watercolor Society in new York. She had many shows with this society, and she also taught watercolor painting at the Brooklyn Botanical Gardens. Her watercolors continue to be shown regularly in galleries in the cities of Canterbury and Rochester in England. She also exhibits her oils, mainly in England but also in Greece on a smaller scale. Among her U.S. exhibitors are the Cooper-Hewitt Museum, the Donnell Library in New York, and the Bellevue Art Museum in Seattle, as well as numerous other well known galleries and cultural centers in Cleveland, Chicago, Denver, Santa Fe, and San Francisco.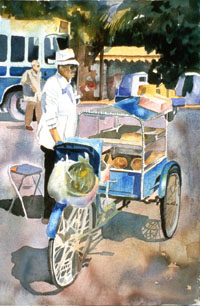 Ann is known for her versatility, evident in her range of media, from watercolors to wall-size frescoes, from still lifes and landscapes in oil to commissioned icons. Along with her iconographic works in various churches in England, she has a permanent exhibit at the Gogos Museum of Vatoussa, Lesvos, and shows regularly at a number of galleries and shops in Greece and in Europe. In England, she shows at Dovedale Studios in Faversham, at Nevill Gallery in Canterbury, and at Francis Iles Gallery in Rochester.
Ann is a member of the British Association of Iconographers, having done the dedicastion icon in Rochester Cathedral and an icon in the Church of St. Peter at Oare, England. The Ecclesiastical Museum in the church precinct here in Vatoussa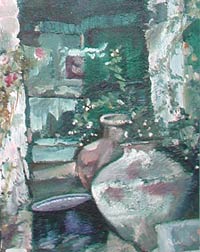 contains an icon which was her gift to the local church,
and she has an icon-in-progress, a true fresco of the Dormition, which will be above the portal to the church grounds. This is believed to be the first true fresco attempted on the island for centuries, and almost
certainly the first by a women.
HCS readers are encouraged to visit the artist's
website at http://www.welch-wengraf.fsnet.co.uk.