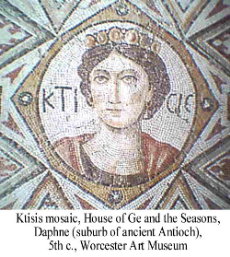 Last October the Worcester Art Museum opened its most expensive and ambitious art exhibition, Antioch: The Lost Ancient City. Costing over one million dollars and including 166 objects from 25 US and European cities, this diverse array of ancient works highlighted the museum's outstanding collection of Roman mosaics and other Greco-Roman antiquities.

Among the finest in the entire country, these mosaics and other Antiochian pieces of the Worcester Museum were discovered during a multi-year excavation begun in 1932 in which the Worcester Museum joined such other
prestigious institutions as the Louvre, the Baltimore Museum of Art, and Harvard and Princeton Universities. Although the excavators had hoped to find some of Antioch's important cultural and religious sites, such as the Church of Constantine and the imperial palace, what they did find changed experts' view of daily life in Antioch. According to Dr. Kondoleon, the archaeologists found "the largest cache of domestic mosaics ever found in the Roman Empire." Many of the mosaics, she has indicated, were "expansive, elaborate floors in private and public buildings on the outskirts of the city. . . [and] were some of the finest mosaics ever discovered, . . . being particularly distinguished by the high level of workmanship, wonderful attention to classical mythology, and very elaborate depictions of the waters, the oceans, and the rivers." The crowning piece of the uncovered mosaics was an entire dining room floor of an Antiochian villa. Participating museums each received a portion of this splendid find: "The Judgment of Paris" panel went to the Louvre, while the Worcester Art Museum received the second most important section, a depiction of a drinking contest between Dionysos and Herakles.


For the first time ever, the divided sections of this mosaic floor were gathered together in a full-scale, historically accurate reconstruction of a Roman room. It was a feat never before attempted by a museum exhibition. Undaunted, Dr. Kondoleon, the Worcester museum's first curator of ancient art, worked for three years to secure loans of the other coordinating floor sections and related artifacts from internationally renowned museums. Also included in Dr. Kondoleon's ambitious plans was a reconstruction of a Roman bath, a fine coin collection, the "Holy Grail" chalice from the Metropolitan, and statuary from the Louvre. Some of the Worcester mosaics were displayed publicly for the first time, marking the culmination of a new treatment of the museum's Greco-Roman art under Dr. Kondoleon.
By all standards, the exhibition was a huge success. Many groups and individuals visited the museum for the first time, viewing the fine antiquities and their splendid display in the exhibition. But for those who missed the exhibition in Worcester, the fine mosaics can still be viewed at the museum after the close of the exhibition later this year. And there is an exceptionally fine exhibition catalog, also produced by Dr. Kondoleon and other experts, available at the museum gift shop, in which these scholars discuss the history and art of Antioch. Their articles represent a considerable amount of new scholarship on Antioch, adding