For more news, analysis and
features from the Athens News,
visit http://www.athensnews.gr
Hellenic Communication Service, L.L.C. provides links to
Greek News Sources.
Click on the links
below to visit
their sites.

---

Athens Photo News

---

---

---

---

---

---

---

---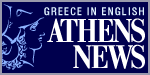 Greece-Turkey talks to test uncharted water

Rights of Ecumenical Patriarchate, Greek minority in Istanbul will be discussed

By George Gilson, Athens News
Reprinted by Permission
GREECE and Turkey are determined to push forward with talks on the issues that divide them, leaving open the possibility that Ankara's claims to rock islets in the Aegean could be subject to adjudication by the International Court of Justice in The Hague (ICJ). Athens, citing international treaties, steadfastly maintains its sovereignty over all the islets contested by Turkey.

Plans to press forward with an "upgraded" dialogue pertaining to both the Aegean and other bilateral issues were reconfirmed by Foreign Minister George Papandreou and his Turkish counterpart, Ismail Cem, at a one-hour February 12 meeting on the sidelines of an Islamic Conference-European Union meeting in Istanbul. But Athens at the same time tried to play down public fears and expectations for the talks - to be conducted at the level of foreign ministry political directors - insisting that it will not negotiate its sovereign rights.

"I would not like to say what could be included [in a court petition] and what our tactics might be. Greece has stressed that if Turkey has a challenge, there is The Hague procedure. It is not automatic, but rather demands mutual agreement [to seek court adjudication], so Turkey must move to accept the court's jurisdiction," Papandreou told the Athens News when asked on February 12 if Greece and Turkey might agree to petition the ICJ to review Ankara's claims to Aegean islets.

Two days later, foreign ministry spokesman Panos Beglitis asserted that regarding Ankara's unilateral territorial demands, Turkey will have to accept jurisdiction of the ICJ and go it alone at The Hague.

"Turkey will have to petition the court unilaterally on this issue, which we do not view as a [legitimate] dispute," he said.

The rights of the patriarchate

Confirming that the forthcoming dialogue will likely include a number of thorny issues beyond the Aegean continental shelf, which Athens had long insisted is the only legitimate dispute to be discussed, Papandreou said that Greece is putting on the table the rights of the Ecumenical Patriarchate. That includes the longstanding demand by Greece and the US that the patriarchate's theological seminary at Halki, shut down by Ankara in 1971, be allowed to reopen.

Greek diplomats have said that the issue must be approached with caution, as Turkey may demand that Athens recognise the existence of a Turkish minority in western Thrace, rather than the Muslim minority (including Roma and Pomaks) recognised by the 1923 Lausanne Treaty. Greek analysts have stressed that respect for the rights of the patriarchate should be viewed as an international obligation for Turkey, rather than a bilateral issue.

"We have a policy, based on the implementation of the Lausanne Treaty, and a strong record on the minority issue. We have a solid framework to both defend our positions and fend off accusations. There is no danger for our side. On the contrary, highlighting respect for international law and treaties will prove that we are in an advantageous position vis a vis Turkey," Beglitis told the Athens News on February 14, when asked if raising the problems of the patriarchate and Istanbul will also entail Turkey's raising its demand that Greece recognise a Turkish minority in Thrace.

"The comparative data are overwhelmingly in Greece's favour," Beglitis underlined, referring to the fact that the Greek minority of Istanbul has dwindled from over 100,000 to 2,000 in a period of 50 years, largely due to the continuing discriminatory policies on Greek minority property.

Papandreou insisted that the parameters set by the Greek parliamentary committee on foreign affairs and defence for conducting the planned negotiations - respect for international law and treaties, as well as for the principle of sovereignty and EU law - will be fully honoured.

"Greece will not negotiate its sovereign rights and it will defend them, moving only in the framework of international law," he said, arguing that the terms of Turkey's EU candidacy require it to make every effort to settle its claims against Greece by 2004, at which time Ankara must refer its claims to The Hague.

The Athens FIR

The Greek foreign minister also expressed guarded optimism, based on a recent Turkish proposal, regarding a resolution of Turkey's challenge to Greece's right to administer the Athens Flight Information Region, covering Aegean airspace. Ankara's proposal involv es submitting flight plans for Turkish airforce jets entering the Athens FIR, but Turkey still refuses to include an aircraft's times of entry and exit, as is required.

"If Turkey, for the first time historically, agrees to the submission of these data [flight plans], that is very important. That would solve our essential airspace violations problem. We have not said that Turkish aircraft in general cannot fly over our country. But we have said that Greek sovereignty over our territory, airspace and territorial waters must be recognised," said Papandreou.

The Greek foreign minister said the current confluence of political factors - improved Greek-Turkish relations, Turkey's EU road map, and EU and US pressure - favour a Cyprus settlement more than at any time in the last decades.

Playing down a recent letter sent by Cem to EU foreign ministers demanding the recognition of two separate states on Cyprus, Papandreou appeared hopeful that Turkey's obligations as an EU candidate might help promote a Cyprus settlement. But he was careful to underline that there is no direct linkage between the resolution of Aegean issues and a Cyprus solution.

"The Cyprus problem is always at the top of the list, although it is not a bilateral problem, and our talks with Turkey cannot but contribute to a better climate on the issue. The Cyprus EU accession policy has produced the first fruit in the form of the ongoing dialogue... All this does not mean there will be a solution, but circumstances are much better," he said.

"Our aim is to solve our problems - regarding Cyprus and Greek-Turkish relations. But I cannot guarantee it. Let us not create great expectations that these issues can be solved magically," Papandreou stressed.