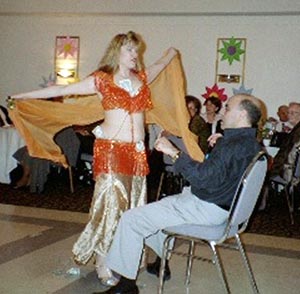 (HCS)--The successful birthday party must be a surprise, above all, a complete shock for the honoree. No warning, no hints, no suspicions of any secret activities by the planners. Invitations must be sent our surrepticiously, either by email, with all Internet traces removed so that the honoree won't stumble upon the e-trail, or by postal mail from someone else's home to hide the paper invitations. Musicians and bellydancers must be phoned from someone else's home. Decorations have to be made by friends (or in Helen's case, by volunteer grade-school students). Family photos have to be gathered when the honoree is out of the house. But most of all, there must be absolutely no trace of a Power Point roast of the honoree until the time of showing.


That's the overall procedure followed by Helen Argiras of Manchester, New Hampshire, for her 60-year-old husband of many years, Tasos. And delighted guests at the Chateau Restaurant can attest to the effectiveness of her methodology. A veteran grade-school teacher and native of Ayiassos, Lesvos, Mrs. Argiras put all of her organizational and speaking skills to use when she planned and carried out her surprise.

Nearly 100 guests from near and far attended this celebration of life and testament to a wonderful marriage and friendship for the Argiras couple. Following a tasty meal and requisite birthday cake and Greek pastries, guests were treated to some of the finest Greek music in New England by the Kokoras Ensemble. Led by Helen and Taso, friends and relatives joined hands and stepped to the lively rhythmns.

But the real surprise, however, began a short time later. During one of the music-set breaks, Helen set up a digital projector and laptop and treated everyone to a slide show of old family photographs that quickly became a roast of the honoree. Guests roared with laughter as Helen offered funny comments about the photos, taken at various stages in their childhood and youth. Born and raised in the same historic mountain village in Lesvos, Tasos and Helen grew up together, married, moved to the U.S., and then raised a family and developed careers in New England.

Although hard-working and industrious, the two are known by their friends for their zestful joie de vivre. But having a good sense of humor can now be added to the many fine characteristics that the couple possess.

Rarely do the Argiras couple pass up an opportunity to sing and dance to traditional and contemporary Greek music, their "kefi" an inspiration to those around them. And Tasos 60th birthday party was no exception.

Many happy returns, Taso! Or, as we would say in Greek, "Na ekatostisate!"