With the conservative price index at its highest level in 10 years, Greeks' top worry is rising prices


HARRY PAPACHRISTOU
ON MAY 31, in broad daylight, a group of self-styled anarchists stormed a supermarket in central Athens. The intruders plundered the shelves, stealing every single package of rice, pasta, bread and detergent they could get their hands on. Then they stepped out on the street and offered the booty to pedestrians along with leaflets reading: "Basic products are sold at exorbitant prices - that's our set of measures against the rising cost of living." Passers-by gladly accepted the loot.

To judge by the latest inflation figures released on June 9, anarchists are right to worry. The consumer price index, the basic measure of prices across a wide range of essential products and services, rose by an annual 4.9 percent in May. That's its highest level since September 1998, the year when Greece set out to slash inflation in its bid to qualify for the euro. The inflation rate almost doubled over the past 10 months. Back in August, it was merely 2.5 percent.

Bread now costs 18 percent more than last year, the country's statistics agency said. Pasta prices have shot up 26 percent, those of pulses by 14 percent, butter by 31 and public transport by 19 percent. That beats annual wage increases of about 6 percent for private sector workers, 5.5 percent for civil servants and about 6 percent for pensioners.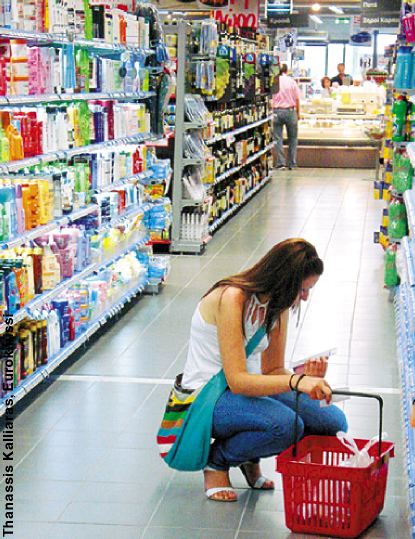 Rising prices have become citizens' top concern


Rising prices have become citizens' top concern. A total of 48 percent of respondents named the cost of living as the "country's most important problem", polling firm VPRC said on June 9, citing the results of a telephone survey conducted earlier in the month. Six months ago, inflation ranked a distant 6th on Greeks' worry list.

Indeed, the future looks gloomy for many citizens, according to another survey by polling firm MRB that was made public on June 12. Of the respondents, 67.1 percent consider the country's current economic situation as bad or very bad, while 56.8 percent believe the situation will get worse over the next 12 months. Regarding their personal economic status, 49.9 percent call it bad or very bad.

Inflation has put the government of Prime Minister Costas Karamanlis in a tight corner. Greeks' confidence in the government's ability to handle the economy dwindles, according to the VPRC survey. The ruling New Democracy party's lead from the main opposition socialists narrowed to 3.5 percentage points from 6 percentage points in May. That's its biggest month-on-month drop in the last five years, according to VPRC.

If elections were held today, New Democracy would miss an absolute majority by 16 seats, according to the survey. A grand coalition between conservatives and socialists appears the only option for a working majority in the country's 300-strong parliament, the poll shows. "The wave of price increases works as a catalyst on the party-political landscape," the firm's chief, Yiannis Mavris, said in an interview on television station Skai.

Stretched to the limit

Karamanlis is shifting the blame for domestic inflation on the world economy. "Exogenous turbulences'' in the shape of rising food and oil prices are a common threat to every nation on the continent, he said in a June 3 letter to Jose Manuel Durao Barroso, the president of the European Commission. EU leaders should discuss the issue during their June 19-20 summit in Brussels and coordinate efforts to stem the rising tide of prices, Karamanlis noted. "Food prices have risen 47.3 percent over the past two years, minerals and oil prices by 39.7 percent and 46.8 percent, respectively," he said.

But Nicholas Garganas, outgoing chief of Greece's central bank, flatly contradicted the prime minister. Cartels, and authorities' inability to break them up, are the main reason why price increases in this country persistently exceed average eurozone inflation, he said in his last meeting with reporters on June 10, four days before retiring as governor of the Bank of Greece.

Greek inflation has averaged an annual 3.4 percent since the country joined the euro in 2001, according to figures by the European Central Bank (ECB). That exceeds the respective eurozone average by 1.2 percentage points and is the highest among the 12 nations that introduced the single currency seven years ago.

Part of the inflation gap with the rest of Europe is explained by the fact that Greece's economy and wages have grown much faster than those of its eurozone peers.

"Greek GDP expanded more than three times as fast as the eurozone - that has led to excessive domestic demand and to inflationary pressures," Nicholas Magginas, an economist at National Bank, Greece's biggest lender, told the Athens News.

Greek unit labour costs have risen by an average, annual 3.6 percent since 2001, compared with a eurozone average of 1.6 percent over the same period, according to ECB figures.

Low interest rates are another reason. In the runup to euro adoption in 2001, borrowing costs in Greece plummeted, giving a further boost to bank lending, consumption spending and prices. After ECB took charge of interest rates across the eurozone, its one-size-fits-all monetary policy accelerated the trend.

For two-and-a-half years through to December 2005, the Frankfurt-based central bank kept eurozone interest rates at a record low 2 percent as it sought to kick-start the then ailing economies of France and Germany. The remedy worked well for the eurozone as a whole, but it contributed to inflationary overheating in countries such as Spain and Greece, where economic growth had been robust anyway.

The cartels delivered a final boost, probably the biggest, to domestic prices. Harmonised practices among companies and the pricing power of supermarkets often deprive Greek consumers of the opportunity to seek cheaper options.

"In Greece, companies have it much easier to roll over price increases to the consumer than in other countries," Magginas said.

Last year, Greek wholesale firms enjoyed a fat profit increase of 82 percent, according to Garganas.

"We expected that the big, multinational retail chains that came to Greece would do more for competition and that they would exert some downward pressure on prices," Magginas said. "But they seem to have fallen into the same pricing game that domestic companies have been always playing."

That game may be slowly coming to an end. Fearing further price hikes and possible interest rate increases by ECB, households have started cutting down on consumption for the first time in more than seven years. The concerns are justified. If oil prices keep rising, inflation could easily hit about 5.5 percent by September, Magginas said.

"Many households, especially poorer ones, are stretched to the limit," according to the economist. The minimum monthly wage of a private sector worker without previous professional experience is 681 euros and that of a civil servant is 930 euros, according to official figures. Less consumption may leave Greece's economic growth at an annual pace of below 3 percent this year, Magginas said. That would be the smallest expansion of GDP in 11 years.