The Cultural Events Committee of the Annunciation Greek Orthodox Cathedral of New England in Boston will take you on a Musical Odyssey when it presents a concert of contemporary Greek composers October 23.

Featuring the internationally acclaimed and award-winning musical composer, Panagioties Liaropoulos, and The Greek Music Ensemble, the concert will take place at 8 p.m. at The Cathedral Center, 162 Goddard Ave., in Brookline, ma 02445. "This is sure to be a magical evening that will delight music lovers of all ages," said Annette Kaselis, a Dedham, Mass. resident and one of the concert's chairpersons.


Listeners will delight in the music of Hadjithakis, Thedorakis, Vangelis and a few other surprises for music lovers of all ages.

Liaropoulos' compositions include music for solo instruments and various ensembles. His works have been performed and recognized in Europe and the United States. Among his national and international distinctions are the first prize in the ALEA III International Composition Competition (2002) for his piece, Orientations Beta. He also received second prize in the prestigious Dimitri Mitropoulos International Composition Competitions in 2005 for his Concerto for Flute and Orchestra and first prize at the Composers' National Workshop at Megaron Concert Hall in Athens (1999).

Prior to the concert, there will be a cocktail reception with delicious mezzedakia starting at 7 p.m. The music will begin at 8 p.m. Coffee and scrumptious desserts will also be served. Tickets are $30 and can be purchased by calling the Cathedral Office at: (617) 731-6633 Annette Kaselis, Concert Chairperson, at: (781) 320-0155.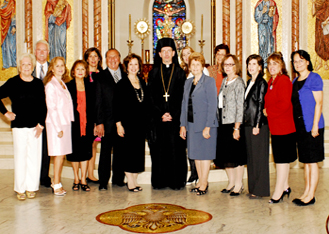 Photo courtesy of Alex Mavrides. L-R: Bette Novicki, Parish Council
President Dr. Demetris Photopoulos, Dr. Maria Koulmanda, Kay
Geanakakis, Kally Badavas. James Kaselis , Annette Kaselis, Very
Rev. Dr. Cleopas Strongylis, Dr. Elaine Iunow, Dora Orphanos, Fay
Andreadis, Dr. Marica Arvanites, Simone Dodge, Ellen Marie Demeter,
Despina Dimitropoulos. Missing from photo, Anna Minos, Carol
Travayiakis, Debbie Babalas, Tina Papadopoulos, Demetrios
Kosmidis, John Ramos.