In 1922, Cathedral president Athan E. Spillios headed a committee which hired architect Hachadoor S. Demoorjian to design the present Cathedral- a majestic example of Classical and Byzantine architecture. The use of five promient domes, representing a cross within a square, are common to such Eastern Byzantine churches as Hagia Sophia in Istanbul and the monasteries of Daphni and Hosios Loukas in Greece. The late Classical Revival influence of the Cathedral followed examples set by the Boston Public Library and the Museum of Fine Arts thus making it a Boston landmark.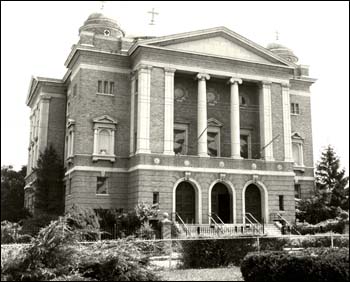 The Cathedral was finally built during the years 1923-4 by the J. R. Worcester Company. It was to symbolize the diligence, sacrifice and achievement of pioneering Greek immigrants wishing to sustain the bond between their faith in America and the Mother Church in Constantinople. Financing the cost of construction, excluding interior decorations and furnishings, required bonds to be issued plus a loan of $125,000 personally guaranteed by the more affluent community. members. Repaying the mortgage took twenty five years of additional fund raising, guaranteed loans and Elliniko Philotimo (Greek pride). Cathedral presidents Harry Demeter, Sr., and William Anagnostis played a major role in the financial efforts. Other Cathedral presidents providing leadership during this period were K. Sakellaropoulos, George K. Anastas, Nicholas C. Culolios, and Arthur Plakias.
II. 1920-1940

The twenties were years the Boston Community was absorbed in their own immediate problems and participating effectively as responsible citizens. The notion of returning to the homeland became remote, and the political questions of their distant homeland were left to be decided by its own citizens. On June 28, 1923, Joakim Alexopoulos was appointed the first Bishop of Boston and the new Church, his seat, became a Cathedral. In this capacity, the Cathedral served as the Mother Church of New England and helped establish and support new parishes in the region that had become a magnet for Greek immigration.
First services at the new Annunciation Church were celebrated on September 14, 1924, the Feast Day of The Elevation of the Holy Cross, by Rev. Emmanuel Papastephanou. Fr.Papastephanou had succeeded Rev. Joakim Alexopoulos who was elevated to Bishop of Boston and later :Metropolitan of Demetriados. To assist with church services, Lazarus Demetriadi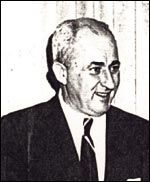 Thomas A. Pappas, Cathedral President, 1929, 1930. 1934, 1936, 1939
s, a member of the Boston Symphony Orchestra, formed a choir. In 1927, the first Boy Scout troop was formed. This was followed by the establishment of the Nine Muses, an organization of young ladies dedicated to Church and community service, by Nina Karamalles. George Alevizos, the renown philanthropist to the blind, became choir director in 1931 and added A Cappella Choir Music to the liturgy. Other choir directors serving through the years are Fr. Chrysoloras, Kyriacos Lavrakas, Arthur Kanaracus, Christine Nikitas, Theodore Mekelatos, Alex Pappas, John Arambages and present director Dean Limberakis.
With its new designation as a Cathedral and Seat of the Bishop of Boston, a committee led by Cathedral presidents Christos A. Tsopelas, Michael D. Choremis, Straty N. Sculos and Thomas A. Pappas hired three of Boston's most prominent designers and scholars with interest in Byzantine architecture and design. Ralph A. Cram, a nationally know Gothic Revival and ecclesiastical architect from M.I.T., was hired in 1926 as a consultant for the interior decoration of the Cathedral. Cram then commissioned Evangelos Ioannides to decorate the Cathedral with iconography. The dome, apse and many of the wall paintings on both sides of the iconostasis were done in Byzantine style and received artistic acclaim. In 1927, pews and pulpit were installed.
The thirties were years of increasing assimilation into American culture and fewer political homeland conflicts within the Boston Cathedral Community. In June 1930, the Cathedral took initial steps to encourage the centralization of a Greek Orthodox Archdiocese in New York City as a unifying element for all Greek Orthodox parishes in the United States."We, your Bostonian parishioners respectfully request his Eminence, Archbishop Damasinos of New York, to appoint clergy and national committees to form one constitution for all Greek churches in America." (Parish Council notes) The following year, Archbishop Athenegoras became the second Archbishop of the Church in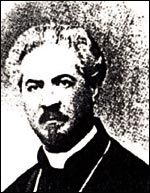 Rev. Athenagoras Cavadas, President, 1931-33
America. His ideas were as progressive as the Bostonians and he is credited with establishing a sound cultural authority in the Greek Orthodox Archdiocese of North and South America. Athenegoras frequently visited the Cathedral and it was in New England that he established the Holy Cross School of Theology in Pomfret, CN. This was the predecessor of the Hellenic College/Holy Cross School of Theology in Brookline, MA. Athenegoras saw support and intellectual leadership in the Boston Community which may have been the reason why the Boston Cathedral became a stepping stone to higher ecclesiastical leadership in the Greek Orthodox Church for many deans, bishops and archbishops.
Coinciding with Archbishop Athenegoras' arrival in America in 1931 was the appointment of Rev. Athenegoras Cavadas as Dean of the Cathedral. Shortly thereafter, Fr. Cavadas was appointed Chancellor of the Archdiocese in New York. Despite the demands of his new appointment, Fr. Cavadas continued serving as Cathedral Dean for two years traveling from New York to Boston on weekends. His tenure as Cathedral Dean had a profound effect on the Cathedral community: Being well educated and an eloquent speaker, Fr. Cavadas celebrated services with exemplary decorum. A prolific writer, he wrote numerous plays presented on the stage of the Cathedral auditorium.
In 1933, Fr. Cavadas was appointed the first Dean of the Holy Cross Theological School at Pomfret, Connecticut and was replaced by Rev. Vasilios Efthymiou. During his years of service as Cathedral Dean from 1933 - 42, Fr. Efthymiou initiated new programs and approaches to keep young parishioners close to the religious and cultural Cathedral environment. Sunday School was introduced as a separate entity from Greek School. Neighborhood Greek Schools were also opened to accommodate dispersion of the Greek language to suburbs. Bussing brought chil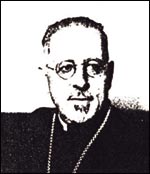 Rev. Vasilios Efthymiou, President, 1933-42
dren to Church and Sunday School. In 1932, an organ was installed to help the choir with its liturgical music. The Cathedral was consecrated by Archbishop Athenegoras on November 4, 1934. The year also saw the start of a religious radio program to bring the Cathedral's message to the homes of parishioners and most of New England. The program continued until 1972 when financial problems caused its cancellation.
In 1935, Kenneth Conant, an internationally known medieval architectural historian and archeologist at Harvard was commissioned to do the stained glass windows. Conant had converted to Orthodoxy and became involved with the Cathedral Community. He worked with Cathedral Dean Fr. Efthimiou to develop proper symbols for the windows. Connant then enlisted the assistance of Charles J. Connick, another medieval architect, to complete the sanctuary windows. Lack of funds delayed work on the dome stain glass windows until 1937. In 1936 the first youth organization, O.X.A.N. - a Greek acronym for Christian Brotherhood of Young People, was formed to cultivate the religious, ethnic and social interests of youth. The year also saw choir director George Alevizos initiate a popular Church Mandolinada Orchestra. Cathedral presidents providing leadership during this period were Seraphim Karamelles, C. Angelopoulos, James Chilimidos, Alexande Varkas, George Demeter, Parisis Georgian, Arthur Stavropoulos, and Nicholas C. Culolias.