Cappella Romana
E-news
January 2005
---
SAVE THE DATE:
BENEFIT EVENT
SUN, FEB 27

DINNER, MUSIC and AUCTION
Sunday, February 27
6:00pm
More information
---
TICKETS
Order tickets on-line
to Cappella Romana's concerts. All seating is reserved. Avoid waiting in line and order your ticket in advance.
Ticket form.
---
Coming up in Spring, 2005:

April 15-16, 2005
BAROQUE SPLENDOR
Easter Celebrations in Baroque Germany and Russia
Featuring the Resurrection History by Heinrich Schuetz and Russian Baroque motets.
CLICK
HERE
FOR MORE INFORMATION.
---
Cappella Romana
Alexander Lingas
Artistic Director
Cappella Romana
3131 NE Glisan St
Portland, OR 97232 USA
This month in Cappella Romana E-News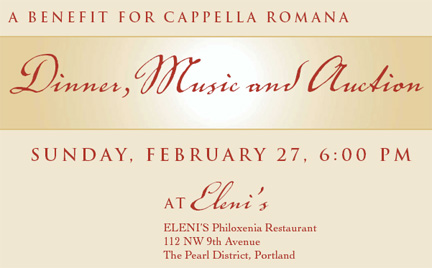 Sunday, February 27, 2005, 6pm
Enjoy a PEARL of an Evening
A Benefit for Cappella Romana

Dinner, Intimate Music and Silent Auction
Sumptuous Greek fare and wine, guitarist Andrew Gorny and an intimate recital by Cappella Romana, directed by Alexander Lingas. Silent auction, featuring a week's stay at a villa on the sea in Greece, courtesy of Dr. Michael Wilson & Stella Voreas Wilson. $75 per person. Space is very limited. Reserve early.
ELENI'S Philoxenia Restaurant
112 NW 9th Avenue
The Pearl District, Portland
Please bring your checkbook to donate and bid on auction items
The Board of Directors
Richard Corbett, President
R.S.V.P. by February 19 for a PEARL of an Evening February 27, 2005.
CALL 503-236-8202 to reserve.
Or email us.
---
Special Event in Seattle Only
Music of Byzantium:
The Fall of Constantinople
Seattle Pacific University,
Thursday, March 3, 2005


Seattle Pacific University 2nd Annual Medieval Roundtable

Seattle ONLY at SPECIAL VENUE:

Thursday, March 3, 2005, 7:00pm

@ First Free Methodist Church, 3200 3rd Ave W, North Queen Anne, Seattle

Map to this venue

|

General Directions

A virtuosic program of 14th- and 15th-century musical works that bears witness to the co-existence and conflict between Greek and Western Christian cultures in the Eastern Mediterranean during the twilight years of Byzantium.

This is the same program presented on tour in 2004 at the Metropolitan Museum of Art in New York, Yale University, Princeton University, the Bloomington Early Music Festival (Indiana), the Holy Trinity Cultural Series in Indianapolis, St. Paul's Greek Orthodox Church in Irvine (CA), and at the Getty Museum in Los Angeles for its exhibit "Byzantium and the West."



---
"Byzantium in Rome" Recorded for New CD

January, 2005--Portland, Ore. Following two successful concerts of "Byzantium in Rome" in Portland and Seattle, Cappella Romana and virtuoso chanter and scholar Ioannis Arvanitis from Athens, Greece recorded the program for a future CD release.

These majestic chants for cathedrals and monasteries from the Eastern-Rite monastery of Grottaferrata (Kryptoferrë), near Rome, were recorded at St. Mary's Cathedral in Portland. The work during cold weather and late nights culminated on Friday, January 14, with the final session and a long visit to the the pub afterwards!

This is the second recording by Cappella Romana produced by multiple-Grammy award winner

Steve Barnett

(e.g. Chanticleer, Dale Warland Singers).

Robert Gwynn

was the engineer.

This recording was made possible thanks to a generous grant from the A. G. Leventis Foundation.



---
Order your tickets today by calling 503.236.8202 or toll-free 866.822.7735.
You may also order tickets online by clicking
here
. All seating is
reserved
by row and seat order. Call or email your requests.
Concerts in Portland are presented in the radiant atmosphere of St. Mary's Cathedral (NW 18th & Couch); in Seattle, at Holy Rosary Catholic Church (42nd Ave SW & Genesee), whose brilliant acoustics are well worth the 15 minute drive from downtown. November's concert in Seattle is at St. Mark's Cathedral on Capitol Hill.
Programs and dates subject to change.
---
Concert and event schedule
See our
website
for the current list of projects.