In the joint communique, issued after a meeting between the two Church leaders, the Archbishop and the Pope stressed ther belief that religions held a particular role in the preservation and prevalence of world peace, and could not be converted into sources of intolerence and violence.

"As Christian leaders, we jointly urge the entirety of religions leaders to continue and strengthen the inter-religious dialogue and work for the creation of a society of peace and fraternity among individuals and peoples," the communique said.

The two spiritual leaders also demanded major sensitivity for a more effective protection in their countries, as well as at European and global level, of the human rights and dignity of the human being as a creation in the image of God.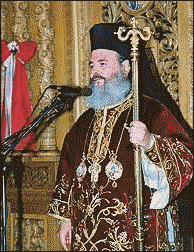 They further urged the developed countries to "manifest greater contribution to the developing states but also to the poorer countries, with the aim of helping the weak and poor who are by far the children of God", adding that "given our common beliefs, we share the common desire for further commitment to the development of communion, in a spirit of constructive cooperation for the ministration of persons and peoples, bearing witness to our faith and hope".

Earlier, the Archbishop and his entourage were escorted on a tour of St. Peter's Basilica by the historic church's Cardinal.

Christodoulos laid an offering of a silver oil lamp on the tomb of St. Peter, which he lit while chanting a prayer. Byzantine hymns accompanied the Archbishop as he chanted a memorial service at the tombs of Pope John Paul II and Paul the VI, and laid a gold-plated wreath on the tomb of Pope John Paul II.

On Thursday evening, the Pope will present to the Archbishop, during a special ceremony, two links of the chain which, according to tradition, the Apostle Paul (St. Paul) was bound during his imprisonment, as an offering of the Roman Catholic Church to the Church of Greece.

The ceremony will take place at Rome's Basilica of St. Paul Outside the Walls, and the gift to the Church of Greece, according to a Vatican announcement, is "part of the precious chain of St. Paul's imprisonment", which is preserved at the basilica built in his honour.

The basilica is built over the traditional site of St. Paul's burial. The chains believed to have held St. Paul during his imprisonment just before his execution are preserved in the basilica's Chapel of the Relics. St. Paul preached in Athens before making his way to Rome, where he was killed.

This is the first-ever official visit by a primate of the Greek Orthodox Church to the Vatican, although Archbishop Christodoulos had previously gome to Rome for the April 2005 funeral of Pope John Paul II.