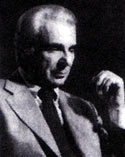 Christopher Xenopoulos Janus, 1911-2009
Christopher Xenopoulos Janus, 1911-2009, died on February 19th in Wilmette, Illinois.

He was the author of a bestselling novel about growing up in Montgomery, Fayette County, West Virginia called "Miss Foourth of July", Goodbye (1986, reprinted 1990. Disney produced a film version in 1988 called "Goodbye, Miss Fourth of July" that they broadcast on their cable network every year on the fourth of July. The film is presently available on VHS from Amazon.com.

The film was actually shot in Jonesborough, Tennessee because of its look of a town from the turn of the century. Stars include two West Virginia-born actors - Chris Sarandon and Conchata Ferrell. Louis Gossett Jr. plays an African-American man facing problems with the local KKK. Roxana Zal plays the young woman Niki Janus who has to learn the harsh facts of life in the South.

On February 11th, 1992, he was the keynote speaker at the annual West Virginia Library Association Library Appreciation Day Dinner, held at the Charleston Civic Center to honor the West Virginia Legislature adn other political leaders of the state including Gov. Caperton.

On September 25th, 1992, the West Virginia Library Commission held an author's signing in the reference room of the Cultural Center in honor of Mr. Janus who autographed copies of a new book published by the West Virginia Library Foundation, "Only for Your Eyes and other imaginary letters." (1992) The West Virginia Library Foundation also published two other books by Janus - "Angle on my Shoulder - Rememberances at Eighty" (1991) and "The Feeling Good Book." (1995)

WVLC director Fred Glazer became a close personal friend of Mr. Janus, interviewing six times for a cable TV show called "The Author." The interview includes more than 4.5 hours of interviews.

Christopher Janus was born in Charleston, WV and raised in Montgomery. After the death of his father and sister during the Influenza Epidemic of 1918, his family moved to New Jersey where he graduated from high school.

He attended Harvard University on a scholarship and became a Rhodes Scholar. He was honored in January 2008 by the new president of Harvard University during an event held in Chicago at the Chicago Harvard Club, the largest such club in the world. Janus was a former president and active in the organization.

He lived in Wilmette, Illinois for many years. He was active in business, publishing, film and entertainment.

He worked with such businesses as Standard Oil, Bache & Co (Bache-Prudential), and J. Walter Thompson. He was also President of Sheffield Books and acting director of its imprint, Out of the Box Books (Press). In addition, Janus facilitated many successful charitable fund raisers and notable events including the Modern Poetry Association White House Celebration held at the White House under three presidential administrations. He contributed to many syndicated newspapers including the New York Times.

A collection of his short stories won the Sandburg Award. In 2002, he received the American Hellenic Institute's Hellenic Lifetime Achievement Award for promoting Greek culture in America.

He was most influential during World War II in Greek war relief. Serving as an economic assistant at the U.S. State Department (1943-1944) and later as the Chief of the Greek Desk in the United Nations Relief and Rehabilitation Agency (UNRRA) in Cairo and Athens (1944-1945), he formulated the economic and relief needs of Greece following the German withdrawal.

In November 2007, The West Virginia Labor History Association and The South Charleston Museum sponsored a program with Mr. Janus.

He introduced his film that was shown in a theater, The La Belle Theater, for the first time. Gov. Manchin proclaimed the day as the first "Greek-West Virginia Day" and honored Mr. Janus as a "Distinguished Mountaineer." Mayor Mullens of South Charleston also gave him the keys to the city.

Ms. Xris Hess, who took Janus and his companions on his last visit to Montgomery, published Distinguished Mountaineer: Christopher Xenopolous Janus, an article about Janus, including how Janus helped save her own grandfather who was starving in Crete when he was leading the rescue efforts.

During his last visit to West Virginia, he spent an afternoon looking for the missing grave of Niki, his sister who died in 1918. He had promised his mother on her deathbed that he would find the grave.

Because people were then buried in unmarked graves because of the large number of people dying, the reconstruction of the Montgomery cemetery, he failed to find the grave.

He published his last book in 2008, "The World of Christopher Xenopolous Janus." During his lifetime, Janus met many famous people including the philosopher Santayana, and owned Hitler's armored automobile. Up to the time of his death, he was working with Professor John Kalaras, a one-time candidate for Prime Minister of Greece, to build a new university in Greece. He was also nominated for the highest civilian award bestowed by the Greek government.

To view our extensive collection of articles and publications written by Christopher Xenopoulos Janus Click Here Check back as this area is added on to frequently.