On June 5, Connie Chiagouris, CRM, Global Records Manager at UOP, was honored by the Chicago . Chapter of ARMA, (Association of : Records Managers & Administrators). Connie was awarded the prestigious Marjorie Thomas Payne Award, during the Chicago Chapter's Annual Awards Ceremony at Maggiano's Restaurant on Clark Street.


This award signifies lifetime achievement and distinguished service by a member who has provided a high level of commitment to the Chicago chapter of ARMA as well as the Records and Information Management profession. Because of its special nature, this award is not given annually.

During the last ten years, Connie has served on two Chicago International Conference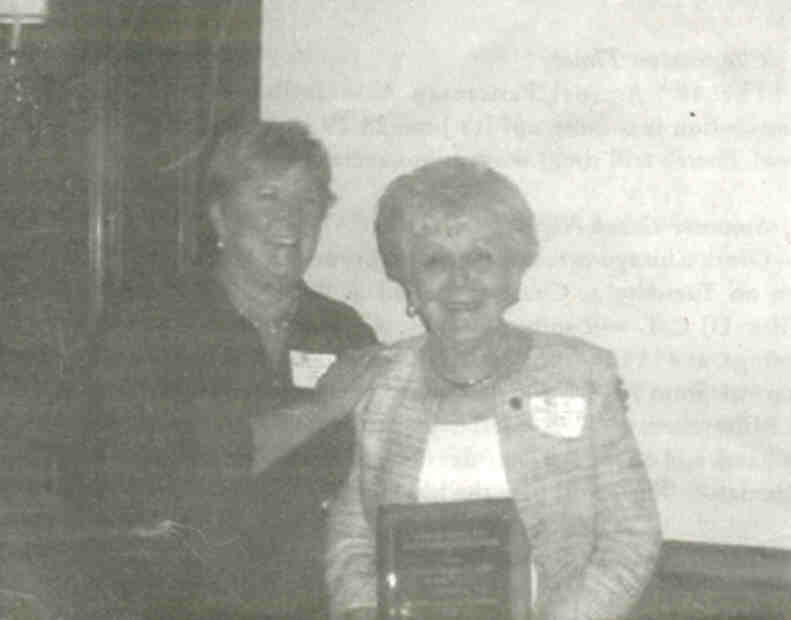 Connie Chiagouris, CRM (left) is shown receiving
lifetime award from Doris Hambacher, CRM, Chairman
of the Board fo the ARMA Chicago Chapter. CRM designates a Certified Records Manager
Planning committees and was twice named Chapter Member of the Year. In 2004 she was awarded the Charles Garrison Memorial Award, honoring the member who had made the greatest advancement in records management within their company, as well as service to the chapter. That same year Allen Arneson, VP of Operations for UOP, was honored with the Champion Award for the greatest contribution in the advancement of records management within their company.


Connie has served the Chicago chapter as Treasurer, Vice President, President Elect, President, and Chairman of the Board. During her administration as president, the chapter won International Chapter of the Year, a title which they repeated a total of three times. She has been Advisor and chapter Communication Manager (newsletter and website) for the past three years."

At UOP Connie implemented several innovations within the records department, including electronic file tracking, bar coding, developing several databases tracking various records managed by the Records Center, which she oversees globally for UOP.

As global manager of Records at UOP, Connie has traveled to various cities in the USA as well as in Europe. UOP is a major engineering company providing technical services to the petrochemical industry.

Connie was named Global Records Manager in 2003. Prior to that she was Manager of Administrative Services and Records. She has been with UOP for over 16 years. In addition to her duties at UOP, Connie has also initiated a special philanthropic project with the Hellenic Museum in assisting the indexing their extensive boxes of magazines, periodicals pertaining to Greek topics. This project is in its third year. Connie has also provide leadership to the Daughters of Penelope, as she rose to the office of Governor, after holding every other office in this worthy Hellenic Organization. She and her husband George Chiagouris live in Niles, and their son Steven lives in Chicago.