In the first feature of a new weekly column, Elaine Green takes acritical look at what awaits a new arrival to a Greek office

The Athens News

IF YOU are working in Greece for the first time or returning to the country after a long spell abroad, then prepare for a culture shock. And for those readers already living in the twilight zone of the typical Greek office, rest assured - you are not alone. Even the Greeks dread the Dickensian conditions in many workplaces.

Petty jealousies and stand-up shouting matches can be everyday occurrences. And that's just at the better establishments! Seriously, though, I remember the first Greek office I ever worked in. It was in a publishing house which shall remain nameless. One of the first things I noticed upon arrival was that my chair had died in no uncertain terms. I thought nothing of immediately ordering a new one via the relevant manager, who also did not balk at my humble request. In Britain this is standard practice, especially since most firms are very hot on health and safety issues. Little did I know the judgement that was awaiting me from my peers. How dare I walk in here as a new member of the office and immediately get a new chair. Who did I think I was?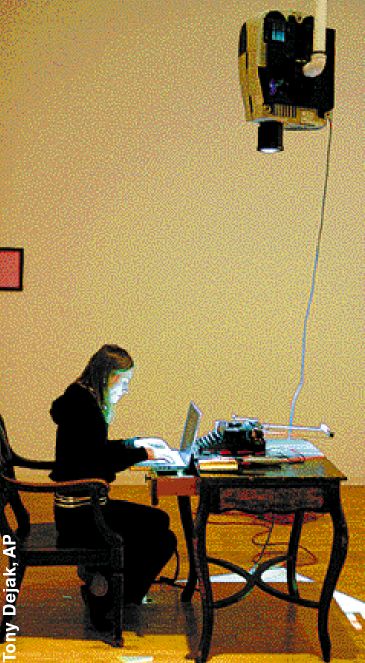 New employees often feel
they are in the spotlight

I found out later that I was not alone. Even a simple request for a replacement mouse for your ageing computer can cause waves. This is often because budgets are tight in Greek firms compared to foreign establishments and fellow workers have had to "make sacrifices". As for benefits such as bonus schemes, incentives, performance-related pay, these are virtually non-existent in most Greek companies. The concept of a workplace nursery is also almost unknown.

One firm I worked at actually forbade talking between employees - even though our work involved collaboration. Screens were erected to prevent talking and "floor managers" appointed to check that idle chatter was not stopping the production line.

In some workplaces lunchtime breaks are frowned upon and "clock-in" cards are issued.

So why work in Greece, one might ask? Apart from the obvious attractions of sunny life outside work, such office experiences can be a useful stepping stone to better jobs. Moreover, the friends one makes at Greek workplaces are often friends for life, and there's often a stream of weddings, baptisms and social gatherings.

Dance classes on the agenda

There are also increasingly more and more Greek office environments that are not so Mediaeval, where employees are trusted to get a job done, chatter and laughter are encouraged, within reason. Many of the larger companies such as S&B Minerals, Titan and Cosmote offer some good "perks". At S&B, for example, its Kifissia office is an architectural masterpiece, with waterpools and fountains, an abundance of natural light and pinewood fixtures and fittings. The 215 S&B employees situated in Kifissia enjoy low-cost but high-quality restaurant facilities, a gym with a sauna and spacious aerobic hall. There is even a programme of dance classes, with Latin dance on the list for the executive looking for a break from late-night meetings (Yes, there are plenty of those in the corporate world.).

Advice for new employees

Softly, softly is the order of the day. Keep a low profile for the first few months, no matter what your grade. Even CEOs need to get to know their environment before making moves.

I am reminded of a tale told about a newly-employed CEO who went down to his firm's loading bay where he observed workers industrially engaged in their duties, except for one idle guy smoking a cigarette and leaning up against a wall. The CEO went up to the man in question and asked him how much he was paid a month. 600 euros was the reply (not a low salary for Greece). "Take double that and get the hell out of here! " the CEO said, handing over a big wad of money.

Afterwards the new "broom" puffed out his chest proudly to the underlings he was looking to impress and said: "What did that guy do around here, anyway?" "He was the pizza delivery guy," an executive replied.

The lesson is, watch and learn before making any moves. Find out the issues that are sensitive, without getting too caught up in office gossip in the process. Ideally, take a good look around the building before accepting a job offer and try to talk to other employees. Having some kind of relationship with your chosen company beforehand can be beneficial, such as contacts via friends, associates through other jobs etc. That way, you are in a better position to decide if it's an environment you really want to experience.


(Posting date 26 May 2006)
---

HCS readers can view other excellent articles by the Athens News writers and staff in many sections of our extensive, permanent archives, especially our News & Issues, Travel in Greece, Business, and Food, Recipes & Garden sections at the URL http://www.helleniccomserve.com./contents.html . Readers enjoying these articles may wish to subscribe to the Athens News by visiting the website and following online directions at http://www.athensnews.gr.

All articles of Athens News appearing on HCS have been reprinted with permission.



---