No matter how much we love Italian staples and classic American cuisine, we all crave something simple, new, and exciting. Greece, withifs pristine beaches, deep blue waters, and historic richness, has the perfect answer: deli­cious food made from healthy ingredients. We can't seem to get enough of the intensely satisfying flavors that are a staple of the Greek diet, including juicy ripe tomatoes, creamy feta, and rich olive oils. With over 100 delicious and healthful dishes, EATING THE GREEK WAY (Clarkson Potter /Publishers, June 2007) by Dr. FedonAlexander Lindberg presents the perfect mix of accessible food, and fresh new flavors.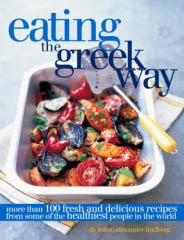 It's no secret that lifestyle disorders such as obesity, diabetes, and heart disease have a great deal to do with what we eat. EATING THE GREEK WAY offers a simple, delicious approach to eating and exercise designeg to control weight and blood sugar and improve overall health. In EATING THE GREEK WAY, Dr. Lindberg (who runs four successful Clinics in Norway) returns to his Greek roots by advocating a "slow-carb" approach, which is largely based on eating natural foods and keeping an eye on glycemic index and glycemic load. EATING THE GREEK W A Y begins with important information on balancing blood sugar, managing stress, choosing "slow" carbs, and the role protein plays in metabolism. The book also discusses the important role exercise plays in staying fit, and offers a list of foods that are a part of the Mediterranean diet, including legumes, fruits, vegetables, nuts, grains, and proteins, along with suggested menus.


The principles of EATING THE GREEK WAY are simple and direct. They include eating three main meals and two snacks a day, keeping protein intake up, reducing salt, avoiding large amounts of saturated fat, resisting the urge to eat before bed, and finding ways to manage and lower stress. Reinvigorating familiar ingredients in a new way, EATING THE GREEK WAY includes dishes like Tuna Chickpea and Avocado Salad, Baked Prawns with Tomatoes and Feta, Spanish Chicken Casserole with Green Lentils, Ragout of Beef with Onions, and Barley Risotto with Parmesan. And of course, since dessert is the best part, Dr. Lindberg has also included delicious dishes like Passion Fruit Creme Brulee, Pears Poached in Red Wine with Cardamaom Sauce, and Baked Apples with Vanilla Sauce.


EATING THE GREEK WAY is packed with vibrant four-color photographs of both the Greek islands that inspired the dishes and the fresh, exciting, and exotic meals themselves. EATING THE GREEK WAY, sure to satisfy the eyes and the palate, will revolutionize the way Americans think about healthful eating.