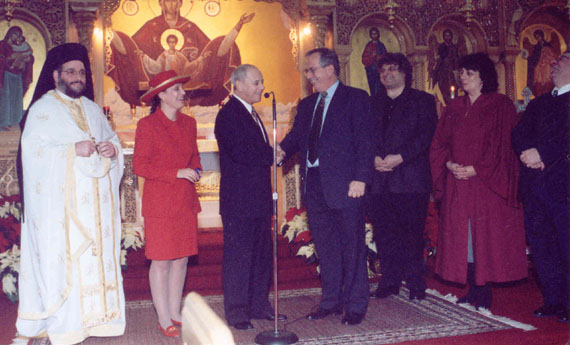 Papoutsys present donation to Elevator Fund. (Left to right: Very Rev. Archimandrite Makarios Niakaros; Mary Papoutsy, Christos Papoutsy, Jeffrey Xenakis, Steven Karidoyanes, Irene Lavallee, Director of the Church Choir, and Ted Gravelos.)
Haverhill, MA--Following Divine Liturgy and the community Christmas pageant on Sunday, December 16, 2001, Christos and Mary Papoutsy presented a check for ten thousand dollars to Jeffrey Xenakis, the President of the Parish Council of Holy Apostles Greek Orthodox Church in Haverhill, Massachusetts for the community's Elevator Fund.



The community of Haverhill has long recognized the need to furnish all of their parishioners with easy access to facilities. Over the past couple of years the congregation has undertaken fundraising to acquire and install an elevator so that all members could attend Divine Liturgy. The entire parish has galvanized to hold bake sales, dances, festivals, and concerts in support of this worthy endeavor. Led by their spiritual leader, the Very Rev. Archimandrite Makarios Niakaros, Mr. Jeffrey Xenakis, President of the Parish Council, Mrs. Cleo Tsolas, President of the local Philoptochos Society, Mrs. Hope Greene, Mrs. Ethell Margaretos, Mrs. Virginia Tikellis, and Mr. William Lucas, the Chairman of the Elevator Fund, the community is very close to meeting their monetary goal.



An active community, and one of the oldest in the nation, congregants of Holy Apostles recently celebrated the 90th anniversary of the founding of their parish in 1908. Along with traditional festivities to which local and regional dignitaries were invited, the community inaugurated a "Park of Recognition" on property adjacent to their Church. Professionally landscaped areas accent plaque-bearing stone walls dedicated in honor of loved ones. With the approach of their centennial anniversary, parishioners look forward to planning special festivities and events.