Written with personal warmth and knowledge, His All Holiness Ecumenical Patriarch Bartholomew illuminates the rich culture and soul of Orthodox Christianity in his new book, "Encountering the Mystery," which is now available.


The Ecumenical Patriarch traces the roots of Orthodox Christianity to its founding 2,000 years ago, explores its spirituality and doctrine, and explains its liturgy and art. More especially, in a unique and unprecedented way, he relates Orthodox Christianity to contemporary issues, such as freedom and human rights, social justice and globalization, as well as nationalism and war.

With a recent rebirth of Orthodox Christian churches, particularly in the former Soviet Union and elsewhere in Central and Eastern Europe, there has been a greater interest in understanding this important branch of Christianity with its close ties to the traditions of the early church.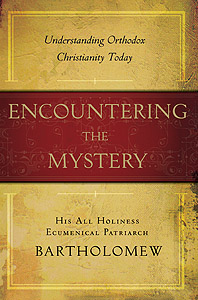 As USA TODAY recently reported, Orthodox Christian churches throughout the country are drawing converts attracted by the beauty of its liturgy and inspired by its enduring theology and teachings. But for the general seeker, whatever their background, "Encountering the Mystery" is a rich spiritual source that draws upon the wisdom of millennia.


Ecumenical Patriarch Bartholomew is the symbol of unity for the self-governing national and ethnic Orthodox Christian churches throughout the world. He is well known for his commitment to protecting the environment and for opening communications with other Christians, especially the Roman Catholic Church, as well as Jews, Muslims, and other religious groups.


Published by Doubleday, the 300-page, hardcover book is currently available for $21.95 through the Orthodox Marketplace of the Greek Orthodox Archdiocese of America at www.orthodox­marketplace.com. III