By Thrasy Petropoulos

SMOKING will be prohibited in all European workplaces, bars and restaurants within two years if proposed EU measures become law.

A "comprehensive ban" on all public smoking in closed spaces was put forward by Health Commissioner Markos Kyprianou on January 30, along with statistics showing that 80 percent of European citizens would welcome such a move.

Although other less restrictive measures were outlined in the discussion paper on smoke-free environments, to be considered by the European Commission later this year, Kyprianou said: "I would be very happy to see all countries following Ireland's example and once this happens there is also an opportunity to improve and extend the laws even further."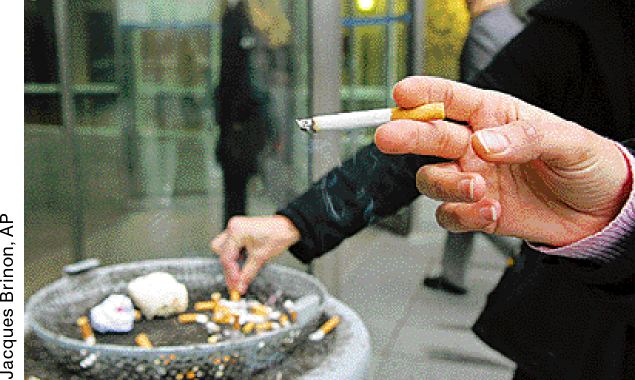 Employees smoke outside the entrance of an office building in the
complex of La Defense, west of Paris, on January 31.
Smoking in public buildings, hospitals, train stations etc
was banned in France on February 1

In 2004, Ireland became the first European country to introduce a nationwide ban on smoking in pubs, restaurants and other enclosed workplaces.

Italy, Malta, Sweden and Scotland have since implemented similar measures and, on February 1, France became the latest EU country to introduce a ban, prohibiting smoking in all offices, shops and schools. Cafes, bars and restaurants will follow by the end of the year. The rest of Britain, Finland, Estonia and Lithuania are set to follow suit.

"Smoke-free policies are very popular among European citizens," Kyprianou said. "A survey found more than 80 percent in favour of a ban on smoking in workplaces and indoor public places. The question is, how we can build on the trend towards smoke-free environments in member states, and what should be the extent of the EU's involvement?

"The fact is that passive smoking does kill. Whoever claims this is not proven is just fooling themselves or others."

Tobacco-related cancers, heart and respiratory diseases kill 650,000 Europeans every year, including an estimated 19,000 passive smokers, according to EU figures.

Olympian smokers

The burning question, of course, is whether such legislation would be properly implemented in Greece, the heaviest-smoking nation in Europe.

Anti-smoking legislation has existed in Greece since 2002, making it illegal to smoke in public buildings, including post offices and utilities, banks, health clinics, pharmacies and schools. Smoking is also prohibited in taxis and on public transport and the existence of non-smoking areas is mandatory in restaurants and cafes.

The law became stricter two years ago when smoking was restricted in shops, private workplaces and offices, where employees are supposedly only allowed to smoke outdoors or in designated areas. Perhaps not surprisingly, most of these are ignored.


Greeks (47.4 percent of men and 39.6 percent of women, according to the Hellenic Heart Foundation) are the Olympian smokers of Europe.



The country leads the field in European statistics on the daily cigarette intake of regular smokers - 23.2 against the EU average of 14.9.

Nikolaos Houlis, president of the Greek Anti-Smoking Association, is resigned to the belief that new anti-smoking laws will be no more successful than those of the past.

"The smoking rooms in public workplaces and the divisions in restaurants do not exist," he told the Eeleftheros Typos newspaper. "No one dares to take policing responsibility, and for that reason I don't believe that anything can happen."

However, Kyprianou, a former 60-a-day smoker, said that he would push for a "commitment that we will reach a comprehensive ban" within the EU, whatever the "cultural differences".

Four other options were set out for consultation in the discussion paper, including placing fresh pressure on member states to introduce voluntary measures of their own, encouraging better national legislation and a new EU framework setting out clear expectations for action but stopping short of binding laws.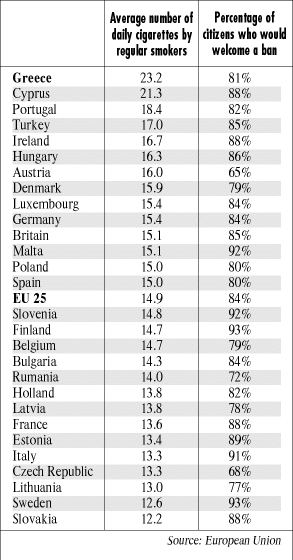 Kyprianou said that smoking "has gone down in all the countries where there has been a ban", an assertion that appears to be contradicted by figures showing that cigarette sales in Italy have increased over the past year despite the ban there being widely observed.

All 27 EU governments, non-governmental organisations, consumers and the tobacco industry will be invited to put forward proposals by May 31 to the commission, which is expected to deliver its final recommendations in early 2008.

However, Kyprianou said that he would not be talking to the tobacco industry during the consultation.

"Why should I?" he said. "I don't see anything that can be achieved by this. They produce products that kill, it's simple."

---
(Posting date 13 February 2007)

HCS readers can view other excellent articles by the Athens News writers and staff in many sections of our extensive, permanent archives, especially our News & Issues, Travel in Greece, Business, and Food, Recipes & Garden sections at the URL http://www.helleniccomserve.com./contents.html

Readers enjoying these articles may wish to subscribe to the Athens News by visiting the website and following online directions at http://www.athensnews.gr.

All articles of Athens News appearing on HCS have been reprinted with permission.



---