Lawrence Ferlinghetti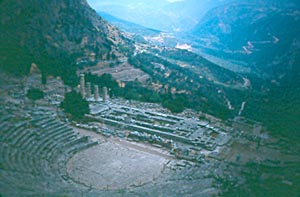 TO THE ORACLE AT DELPHI


Great Oracle, why are you staring at me,
do I baffle you, do I make you despair?
I, Americus, the American,
wrought from the dark in my mother long ago,
from the dark of ancient Europa--
Why are you staring at me
as if I were America itself
the new Empire
vaster than any in ancient days
with its electronic highways
carrying its corporate monoculture
around the world
And English the Latin of our days--

Great Oracle, sleeping through the centuries,
Awaken now at last
And tell us how to save us from ourselves
and how to survive our own rulers
who would make a plutocracy of our democracy
in the Great Divide
between the rich and the poor
in whom Walt Whitman heard America singing

O long-silent Sybil,
You of the winged dreams,
Speak out from your temple of light
as the serious constellations
with Greek names
still stare down on us
as a lighthouse moves its megaphone
over the sea
Speak out and shine upon us
the sea-light of Greece
the diamond light of Greece

Far-seeing Sybil, forever hidden,
Come out of your cave at last
And speak to us in the poet's voice
the voice of the fourth person singular
the voice of the inscrutable future
the voice of the people mixed
with a wild soft laughter--
And give us new dreams to dream,
Give us new myths to live by!
Lawrence Ferlinghetti is San Francisco's first poet laureate (1988) and the owner and co-founder of City Lights bookstore. His poem appears on pp 12-13 of the Spring 2003 edition of the literary journal MondoGreco whose editor is noted Greek poet Dino Siotis. Cover design of that issue is by Alex Silberman. Reproduced on HCS by special permission. For subscriptions, contact MondoGreco at 246 Beacon St., Suite 4B, Boston, MA 02116; http://www.mondogreco.com;tel.: 617-262-7533. Individual subscriptions US$20, two years US$38, three years US$56. Foreign institutions and subscribers additional US$10 per year.

---

2000 © Hellenic Communication Service, L.L.C. All Rights Reserved.
http://www.HellenicComServe.com