"Greek music and cuisine played a major part of my childhood, in the central Asian republic of Uzbekistan, that was part of the Soviet Union. The Greeks played a major role in the cultural and economic life that is not reflected in internet official statistics. When they left, their absence was a devastating blow," said Alexander a. Katz, a St. John's University Mathematics professor. He unfolded a story in one afternoon about a part of Hellenism that is ignored: the Greeks of Uzbekistan.

Currently nine thousand ethnic Greeks live in Uzbekistan. The community is made up of Greeks from Central Asia, Russia. They were deported by force in the 1940's. The others are political refugees from Greece. About thirty thousand Greeks lived in the country before WWII. Eleven thousand arrived after the Greek Civil War. Their numbers have dwindled from a high of over forty thousand in the 1960's. In ancient times southern Uzbekistan was part of the Hellenistic Seleucid Kingdom. Greek communities have been assimilated from ancient times. The Greek Cultural Association of Tashkent is the most important organization. The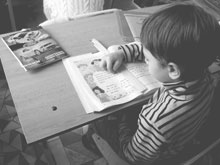 Achilleas Patsoukas
Photo: Some 6,000 descendants of
Greek political refugees live in
the capital of Uzbekistan. The
small community keeps the Greek
spirit alive through cultural events.

organization focuses on Greek language instruction with nineteen classes that total five hundred and seventy one students. Greek dances and music are taught. The biweekly newspaper, Anasintaxi, is in Greek and English. It has been published since 1996.

"I am from Tashkent, the capital of Uzbekistan," explained Prof. Katz. "Dalaras and Theodorakis' music was heard. Our Greek family friend said Greek and Jewish cultures are compatible. Alexander the Great was a great king, beloved by the Jews through history. A king of the first century and rabbis have the name Alexander." He was referring to Alexander Jannaeus, King of Judea from 103 B.C. to 76 B.C. Rabbis Alexander S. Gross and Alexander Schindlen were mentioned.

He unfolded an exciting story of the Greek Civil War exiles from an unbiased point of view. "In 1947, the Communists and Socialists controlled Northern Greece. The current Greek government of 1947 passed a law deporting them to Russia. Many came to Tashkent. When Andreas Papandreou came to power, he passed the Amnesty Law that allowed the Greeks to go back home."

"They lived in Uzbekistan for forty years, placing roots and having mixed marriages," continued Professor Katz. "During these years, they renewed their passports at the Greek embassy, even though they were officially considered war criminals. They used their passports for travel everywhere, but Greece. Some had United Nations refugee documents, while others had Soviet passports. The exodus of Greeks from Central Asia began in 1982-83."

"Many of my Greek neighbors wanted to serve in the military," he explained. "The Russian government forbids them from enlisting. Many Greek refugees wanted their children to serve in the military. They assumed Russian citizenship, so their children could enlist. Their local newspaper was Rizospastis (Breaking of Roots). The Greek Communist Party played a major role in the life of Tashkent."

"The authorities gave them a landmark meeting place," continued Dr. Katz. "They were active in the political life. The Greek communist Party was the largest after the Italian Communist Party in Europe. The Soviet Union actively supported the Greek Communist Party in its borders. They allowed left wing musicians, such as Theodorakis, to perform all over the Soviet Union. They collected money for them and aided them financially. Every year they would come to Uzbekistan and have concerts. They could not get money directly. They were heavily subsidized by the government all over the Soviet Union. The subsidies aided them financially. Every year, Theodorakis was in Tashkent. I do not know a year he was not there. That is why Russians know and enjoy Greek and Italian music and Dean Reid, the American Communist singer."

"As a child, I was invited to all Greek social evenings of my Greek friends." he recalled. "We listened to the latest musical tapes from Greece. In 1982, when the Amnesty Law was passed, 90 percent left in five years from my country. A few hundred thousand went to Salonika. I still have Greek friends. My friend's mother, Professor Georgiades, still works in Tashkent. My close classmate had a Greek mother and Jewish father. Every year in Tashkent City Hall, Greek Independence Day was celebrated. I still go to Greek Independence Day celebrations with my wife at New York City Hall."

According to Professor Katz, "hundreds of thousands of Greeks lived in Uzbekistan. They were noticeable. The statistics are not accurate. They were everywhere. In five years, after the passing of the Amnesty Law, the Greeks disappeared. Some immigrated to Greece, while others went to Israel." The Greek Civil War divided the Greek people for decades, separating leftist and rightist sections of society.

For further information, visit the following links:

http://en.wikipedia.org/wiki/Alma_Ata

http://www.dailyfrappe.com/Default.aspx?TabId=36&articleType=ArticleView&articleId=2423&AspxAutoDetectCookieSupport=1

http://en.wikipedia.org/wiki/Greeks_in_Uzbekistan

http://www.mfa.gr/www.mfa.gr/en-US/Policy/Geographic+Regions/Russia+-+Eastern+Europe+-+Central+Asia/Bilateral+Relations/Uzbekistan/

http://mfa.uz/eng/about_uzb/history

http://www.ekathimerini.com/4dcgi/news/content.asp?aid=80343