Macedonian foreign minister Antonio Milososki has written to his Greek counterpart Dora Bakoyannis asking for the two countries to resume political dialogue and agree on some steps to improve bilateral relations.

Athens and Skopje are locked in a prolonged dispute over the use of the name "Macedonia". Pending resolution of the dispute, Athens has blocked Skopje's Nato hopes and has said it will bar its aspirations towards negotiations on EU membership.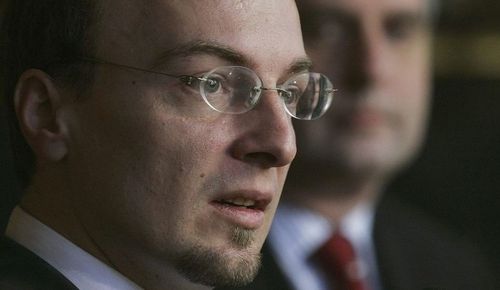 Macedonian FM Antonio Milososki
The name dispute, which has defied United Nations-brokered attempts at mediation, is a key issue in presidential and local elections in Macedonia being held on March 22 2009.

In his letter to Bakoyannis, Milososki proposed a Macedonian-Greek declaration of friendship, good-neighbourly relations and co-operation, the setting up of a bilateral joint committee on education and history and a framework proposal for improving bilateral relations.

"I am firmly convinced that by accepting of these three initiatives, both governments will send a strong message about their strong commitment and constructive approach to the ongoing talks between the Republic of Greece and the Republic of Macedonia held under brokerage of the United Nations, which are aimed at overcoming the name differences," Milososki said in the letter.

Greek foreign ministry spokesperson Giorgos Koumoutsakos told journalists that Greece always had "believed in, and practiced, good-neighbourly relations".

He said that bilateral efforts "should focus on the unsolved matter of the name dispute."

"A solution to this problem (name issue) will be the catalyst (for improved relations) ... other types of conduct are merely a temporizing tactic and belie an attempt to reverse priorities and an attempt to divert the negotiation from its objective," Ana-Mpa agency quoted Koumoutsakos as saying.

The "course of relations depends on the implementation of the (September 1995) 'interim agreement'. A solution to the name issue will also serve as a catalyst for the development of bilateral relations, regional cooperation and the neighboring country's European prospect," he said.

Skopje and Athens are headed for international court over Greece's move against an invitation to Macedonia to join Nato. Macedonia, which Greece recognises only with the prefix "Former Yugoslav Republic" says that Athens's barring of the Nato membership invitation was a breach of a bilateral agreement.

Meanwhile, Greece - current holder of the rotating chairmanship of the Organisation for Security and Co-operation in Europe (OSCE) - will not send its own observers to the March 22 elections in Macedonia. This was being done to avoid any misunderstandings or misperceptions that Athens was attempting to meddle in Skopje's affairs, Koumoutsakos said.

However, in her capacity as chairperson-in-office of the OSCE, Bakoyannis would visit Macedonia after the elections, but only in her OSCE capacity and Athens-Skopje bilateral issues such as the name dispute would not be part of the visit, Koumoutsakos said.