HARD GOODBYES: MY FATHER
(Diskoli Apocheretismi: O Babas Mou)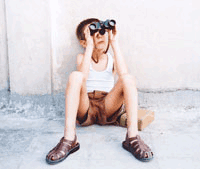 Director:
Penny Panayotopoulou
Opens Friday, December 10

Greek director Penny Panayotopoulou has crafted this enchanting and sometimes wryly amusing coming-of-age story that pays tribute to the resilience of youthful spirit. Elias is growing up in Athens in 1969. He idolizes his father, a traveling salesman who is often away from home - leaving his mother resentful, and his elder brother determinedly sullen. When father is killed in a car accident, Elias simply cannot conceive of it. He clings to the parting promise his father made to him: that he will be home in time to watch the Americans land on the moon. He creates a healing and often creative fantasy that allows him to deal with the death. An extraordinary film. In Greek with English subtitles.
(Greece, 2003) 113 min.