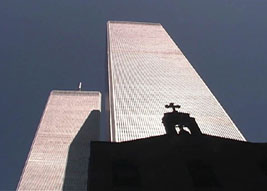 Historic Church Destroyed in World Trade Center Catastrophe

New York - The terrorist attack against the Twin Towers of the World Trade Center that killed an estimated 5,000 people, also destroyed tiny St. Nicholas Greek Orthodox Church located about 500 feet from ground zero.

On Tuesday morning, September 11, 2001, Fr. John Romas, pastor, attempted to go to his church but was turned back by police. Wednesday, he was permitted to visit the site to view what was left of the church. "It would break your heart," he said of the devastation he witnessed. It's one thing to see it on TV, and another thing to see it in person. St. Nicholas is buried under debris. It is the worst thing." He described steel girders and concrete from the towers burying the building.

Fr. Romas said that, at the time of the first blast, one parishioner, Vassilios Torazanos, 50, was working in the church but rushed out of the building moments after the first jet, American Flight 11, crashed into the south tower at 8:48 a.m. He left his car in the adjacent parking lot and ran all the way to Brooklyn, about two miles distant over the East River. Normally about 45 to 50 faithful (capacity for St. Nicholas) attend Divine Liturgy on Sundays. He said his parishioners plan to rebuild their church and have established an account for anyone wanting to donate. (St. Nicholas Greek Orthodox Church, Atlantic Bank, account number 09062602, 8010 5th Ave., Brooklyn, N.Y. 11209).

Fr. Romas also said he is attempting to locate a site in the area to hold church services and plans to ask permission from city officials to allow him to retrieve the church's holy relics: those of St. Nicholas, St. Katherine and St. Sava. They were kept in an ossuary on what had been the top floor of the four-story building.

Greek immigrants established St. Nicholas Church in 1916 and purchased the structure for $25,000. It was one of two old calendar parishes under the Archdiocese until 1993 when it switched to the Gregorian calendar. Among the church's unique characteristics are its small size and its icons, which were a gift from the last czar of Russia, Nicholas II. Fr. Romas expressed hope he would be able to salvage some of the icons.

The church also was open Wednesdays at midday, for people to light a candle and pray during their lunch breaks, to attend a paraklisis the first Wednesday of the month, or just for spiritual contemplation. The tiny church building was constructed around 1832. It originally was a residence and later housed a tavern before the founders of the parish purchased the structure. It measured 22 feet wide in front, 20 feet, 11 inches in the back, and about 56 feet long. It was 35 feet tall. On three sides it was bounded by a parking lot. Among its first members were the parents of Telly and George Savalas.

The church has been known locally for several years for its celebration of Epiphany. Parishioners would proceed to nearby Battery Park at the south tip of Manhattan, where a diver would jump into the icy water of New York Harbor to retrieve the cross.


Archbishop Inaugurates Relief Fund

His Eminence Archbishop Demetrios, working together with all Orthodox jurisdictions in the U.S., has established the September 11th Relief Fund and the National Orthodox September 11 Relief Centers. For details on the fund, the September 11th hotline, and other relief activities established by the Archdiocese, follow this link.


SAE Calls for Contributions
The Council of Greeks Living Abroad (district of North and South America) has established a benefit fund to assist in the support of families and victims of the terrorist attacks on America.
Anyone who wishes to may contribute by depositing an amount to any branch of Atlantic Bank (New York or Chicago), or send a check to the Benefit Foundation of SAE to the following address: Account: SAE ASSISTANCE FUND Number: 59004581.
SAE has also set up a webpage to provide an information service for all Hellenes who may have been near the terrorist attacks on September 11 and their family members and friends. The address is: www.saeamerica.org/terrorattack/index.html. The website includes a database of those reported missing, dead, injured, or safe. Visitors who have information may submit reports.

Consulate Hotline
Greek citizens or Greeks living abroad who are worried about missing friends or relatives can call a special hotline set up at the New York Consulate. The phone number is 001-212-98855000, extension 222 or 244.
Greek Casualties Reported

The Greek consulate in New York, reported that two Greek-Americans are missing following the attack on the World Trade Center. Ioanna Achladiotis, 27, a Greek Cypriot, and John Katsimatidis were both working for an investment firm which had offices on the 101-105 floors of the WTC. Katsimatidis is the brother of Antholua Katsmadi, assistant to New York Governer John Pataki.
Michael Tarou, son of the President of the Cypriot Federation of Florida is confirmed dead. Tarou was an air host on United Airlines Flight175. Among the passengers on American Flight 11 Boston to Los Angeles Michael Theodoridis, 32. Theodoridis was a consultant who worked in Boston.
Among others reported missing: Thomas Damaskinos, Anthony Demas, Ramzi Doany, Constantine "Gus" Economos, Vassili Haramis, Steve Kokkinos, Danielle Kousoulis, George Merkouris, George Paris, Daphne Pauletsos, Stephen Emanuel Poulos, Timothy Soulas, William Tselepis, Steve Zannetos. The missing worked for companies that included Cantor Fitzgerald, Morgan Stanley, Carr Futures, The Washington Group, and AON.

AHEPA Expresses Grief, Support
AHEPA Chairman of the Board A. Steve Betzelos and President Banis announced a financial contribution on behalf of AHEPA National to the American Red Cross Disaster Relief Fund.

AHEPA President Andrew T. Banis conveyed the Hellenic organization's sadness and outrage concerning the national tragedy of September 11th. In addition, Banis offered the support of the Greek-American community for President George W. Bush's efforts to find and punish the perpetrators of these despicable acts.
The organization will mobilize its network of chapters, urging them to contribute to the ongoing humanitarian relief efforts, he added. Today, Banis directed the organization's chapters and members to organize blood drives, donate blood, contribute financial aid, and to observe a moment of silence at upcoming chapter events. Also, he asked all Americans of Greek descent to fly American flags at half-mast. "In the spirit of patriotism and our mission, I strongly urge our members and chapters to work with local disaster relief organizations such as the American Red Cross to assist with relief efforts," Banis said.