The Hellenic Nursing and Rehabilitation Center 18th Annual Invitational Golf Tournament, in memory of Nicholas G. Cockinos

---
***

Looking forward to the coming spring and summer, the 18th Annual Invitational Golf Tournament Committee of the Hellenic Nursing and Rehabilitation Center braved one of this year's frequent snow storms and got an early start on the planning of the July 7, 2003 golf tournament, at Indian Ridge Country Club, Andover MA. The spirits were high as the renewed and re-energized Committee arrived at the decision to dedicate this year's tournament in memory of the late Nicholas G. Cockinos. Mrs. Artemis Gyftopoulos, President of the Hellenic Women's Benevolent Association, Inc., that supports the Center, expressed her deep gratitude for the committee's dedication over the years and for their enthusiastic determination, this year, to outperform their past achievements by raising dearly needed additional funds for the Center. "This cannot come at a more opportune time" said Mrs. Gyftopoulos, "the continued economic slowdown and the State's budgetary cuts have created a keen challenge in maintaining the vital services necessary to meet our elderly brethren's needs."



Mr. Lou Vinios will be leading the expert efforts of the veteran and newly recruited Committee volunteers. Panos D. Spiliakos will help as golf tournament coordinator. The goal is to make this year's tournament the usual fun event for the players, more financially rewarding for the Nursing Center, and a proud and appropriate memorial for Nicholas G. Cockinos, who was a very special friend to so many of his fellowmen and an exemplary and compassionate human soul.



On behalf of the Committee, Lou Vinios invites the entire community to embrace this effort and sign up as a player, sponsor, or both. Tickets are available on a first come first served basis. Early reservations are strongly recommended, as foursomes have sold out for 17 consecutive years! Finally, friends and supporters are encouraged to stake a chance in winning the $5,000 grand prize of the $100 per ticket lottery. To secure ticket(s) to: fun by playing, fun by giving, and fun by … (hopefully) receiving, call (781) 828-7450 X 106 or (781) 828-4549.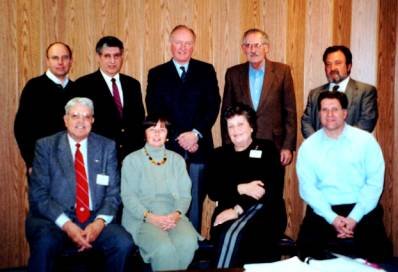 Standing (left to right): Wayne Fischer, Steve Tolias, Brian K. Sullivan, Peter Pantazelos, and Peter Murfitt. Seated (left to right): Panos D. Spiliakos, Elaine Fischer, Artemis E. Gyftopoulos, and Lou Vinios. Missing from the picture are committee members: John Boujoukos, George Chryssis, Leo Curtin, John Dallas, George Danis, Jim Frankudakis, John Lagadinos, Nick Skangas, Stephen Sotakos, and Chris Tsaganis.