This summer millions of people across the country will have to dig deep into their pockets and probably spend a part of their holiday searching for old title deeds in order to get their property registered with the Ktimatologio AE
KATHY TZILIVAKIS

MILLIONS of homeowners across the country will be forced to dig deep into their pockets this summer, paying the price for the country's long-awaited and grossly mismanaged land registry project that was embarrassingly stripped of European Union funding back in 2001.


Some three million Greek and expat property owners in 107 municipalities nationwide have between June 17 and September 30 to register their title deeds with the Ktimatologio AE, the state-owned company in charge of compiling the countrywide land registry. Property owners residing abroad will have until the end of this year to register their title deeds.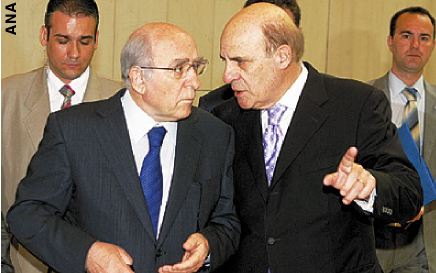 E
nvironment Minister George Souflias (L) listens to Christos Goulas,
head of Ktimatologio AE, during a seminar in Athens on June 11


The land registry would have been free for property owners if Greece had spent millions of euros in European Union funds more efficiently about a decade ago. In December 2001, the EU's directorate general for regional policy had discovered that although the 140 million euros in Brussels funds earmarked for the project was spent by Greece, the country's land registry was still not operational. Greece was forced to return 100 million euros as a penalty.

That is why, according to Environment, Public Works and Town Planning Minister George Souflias, property owners are now required to pay for the land registry themselves.

"The cost of the land registry is estimated at 1.5 billion euros," Souflias said on June 10. "As you all know, the EU refuses to fund the project. In order to address this problem, we are financing it ourselves through a realistic and fair land registry fee."

As announced by the Ktimatologio, property owners, including joint owners, must each pay a fee of 35 euros to register their home, apartment, building, shop and/or plot of land. An additional 20 euros will be charged for each parking space or storage room.

This is the first phase of the land registry process. The second phase, which will be completed by 2012, involves a 0.1 percent charge on the property's objective value (the official estimate fixed by the finance ministry) minus 20,000 euros.

The good news is that this fee cannot exceed 900 euros and owners of property with an objective value of 20,000 euros or less will not be required to pay the 0.1 percent charge.

The procedure

The first step is for property owners to head for their nearest bank to pay the initial land registry fee. The Ktimatologio has commissioned the services of 13 banks: Alpha Bank, Eurobank, Marfin-Egnatia Bank, Pro Bank, ATE, Attiki Bank, Geniki Bank, Ethniki Bank, Emporiki Bank, Bank of Cyprus, Piraeus Bank, Dodecanese Bank and the Bank of Hania.

The next step for property owners is to go to their local branch of the Ktimatologio to register their property. Note: They must register the property in the municipality in which the property is located. This means that the owner of an apartment in Aigaleo and a patch of land in Kozani must register the apartment in Aigaleo and then travel to Kozani to register the land.

To register property, the owners must fill in a three-page application form (available from the Ktimatologio branch offices) and provide a photocopy of their title deed, as well as a bank receipt showing they have paid the registration fee.

A list of the Ktimatologio branch offices is available online (www.ktimatologio.gr).

Property owners, however, may avert the queues by registering by mail or online by visiting the website www.ktimatologio.gr. If they register by mail, their application must be postmarked by the September 30 cutoff date. To register online, property owners will have to pay the registration fee by credit card and scan their title deed so that they may send it as an attachment.

Those who fail to meet the September 30 deadline will be subject to a fee that ranges between 50 and 1,500 euros.

Property owners residing abroad may apply by proxy if they cannot come to Greece by the end of this year.

---

Example #1

The owner of a new 200m2 apartment and 10m2 storage room in Kifissia, a 50m2 summer home on the island of Samos and a small plot of land inherited from her grandmother in Larissa will have to pay a total of 125 euros (35 euros for the apartment, 20 euros for the storage room, 35 euros for the summer home and another 35 euros for the land on Samos) to register the properties.

In the second phase (by 2012), the owner will be called to pay 780 euros (= 800,000-20,000/1,000) just for the home in Kifissia, the objective value of which is currently fixed at 800,000 euros. But even though the summer home on Samos and the land in Larissa may have driven up the fee to several thousand euros, she will only be called to pay 900 euros (the maximum).

Example #2

A husband and wife jointly own their home (a one-storey house with a closed parking space worth 100,000 euros) in Aigaleo. They will each pay 55 euros (35+20 euros). By 2012, each of them will have paid an additional 80 euros ( = 100,000-20,000/1,000) or a total of 190 euros to the Ktimatologio.

Example #3

If the husband and wife in example #2 had transferred their property to their 10-year-old daughter, but still hold on to the majority stake of the property, all three of them will each have to pay 55 euros to register with the Ktimatologio. And by 2012, the family will have been called to pay 240 euros ( = 80x3).