An unholy succession war breaks out in the Church of Greece as thearchbishop's cancer is diagnosed as incurable, while doctors debate the wisdomof the failed transplant attempt
THE ORTHODOX Church of Greece has entered a protracted period of transitional uncertainty after Archishop Christodoulos' failed liver transplant operation on October 7.


The primate of the Greek church, who was afflicted with liver and colon cancer, had entrusted his last hope for survival in the hands of internationally renowned transplant surgeon Andreas Tzakis, who heads a clinic at Jackson Memorial Hospital in Miami, Florida. But the operation was cut short when Tzakis discovered diffuse metastases from the liver to the abdominal cavity. That meant that the transplant would offer no chances of survival, as anti-immunity drugs needed after transplantation would fuel cancer growth.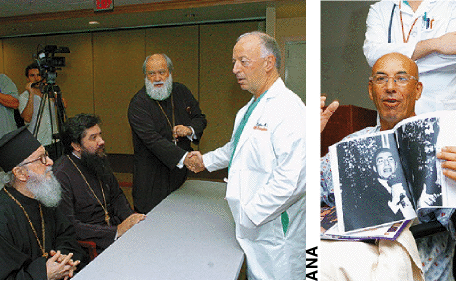 Transplant surgeon Andreas Tzakis, who heads a clinic at Jackson Memorial Hospital in Miami, Florida, briefs Archbishop Demetrios of America (Left) and other bishops about Archbishop Christodoulos' failed surgery on October 7. Jacob Girshon (R) received the liver transplant originally intended for Christodoulos
The transplant liver was given to another patient who had already been brought to an adjacent operating room.

Tzakis told journalists that the metastasis of liver cancer to the abdominal cavity was rare in such cases and surprised him. He said MRI scans could not detect the minuscule abdominal cancers.

In Athens on October 11, emeritus surgery professor Evangelos Hatzigiannakis blamed surgeon Dionysios Voros' team at Athens' University's Aretaieion Hospital, where Christodoulos underwent a colon cancer operation in July. Hatzigiannakis said the liver biopsy taken there is the only way that the liver cancer could have spread to the abdomen.

While the Jackson Memorial medical team initially told reporters that the archbishop could be released by October 14, Tzakis later said that Christodoulos would be kept on for one or two weeks for further tests to determine any future therapy, which may include chemoembolization, or targeting chemotherapy at the liver through the hepatic artery. But some in the archbishop's inner circle in Miami say he is eager to return to Athens, and oncologist Isam Bankousli said that life expectancy in such cases is just months.

The news hit the hierarchy of the church and the Greek government like a bombshell, as over 90 percent of Greeks are Orthodox Christians, and the church wields enormous social and political influence. The Orthodox Church of Greece is also to receive 30 million euros from the EU's Fourth Community Support Framework for its projects. For over seven hours after Christodoulos' abortive transplant operation had finished, state and private Greek media were reporting that the archbishop was still in the operating room.

Less than a day after the news emerged that the archbishop's condition was definitively terminal, the Greek church hierarchy, which was holding its annual synod, became embroiled in discussions over the succession struggle. Metropolitan Chrysostomos of Zakynthos was the first to publicly raise an issue that others have been feverishly discussing since July, when Christodoulos underwent the colon cancer operation.

"It is natural to begin discussions of succession when the archbishop has an incurable disease. He will live as long as God wants. Whereas before it was unethical to discuss the succession, now it is logical," Chrysostomos said on October 8. "The widow prepares the [mourning] veil long before her husband dies." But an uproar in the synod forced him to back off.

Long one of Christodoulos' staunchest critics, Chrysostomos was the first to visit the archbishop at an Athens hospital and the first to speak out about replacing him. In the Eastern Orthodox tradition, bishops normally die in office. But critics say that in the case of the archbishop's late predecessor, Seraphim, who for years suffered from kidney disease, Christodoulos and other bishops had raised the succession issue five years before Seraphim's death, while he still occupied the throne.

Metropolitan Ieronymos of Thebes - Christodoulos' main rival for the throne in 1998, who at the time fended off slanderous charges of having embezzled money as church financial director but was later cleared - left open the possibility of again standing for election. He said he would decide after speaking with Christodoulos.

At the same time, the failed transplant operation triggered a bitter public feud between renowned Greek doctors, who on countless TV newscasts debated the wisdom of undertaking a liver transplant in the first place. That led Health Minister Dimitris Avramopoulos to contact medical associations to ask for a gag order on publicly discussing Christodoulos' medical record.

Emeritus Professor of Medicine Sotiris Raptis, who was a classmate of Christodoulos' at Athens' Leonteion School over 50 years ago and for decades treated the archbishop for diabetes, said he had advised that a liver transplant in a case with two separate cancers was doomed to failure.

Raptis said that Father Thomas Synodinos, the Athens Archdiocese chancellor and the archbishop's right-hand man, barred him from attending medical councils at Athens' Aretaieion hospital. It was Synodinos who brought Tzakis to Athens to explore a possible transplant. Tzakis was already acquainted with Christodoulos and other bishops.

Church sources suggested that the idea of taking the archbishop abroad for the operation may, in part, have been designed to postpone the succession battle and open the way for a candidate that would allow Christodoulos' inner circle to hold on to their key posts.

Oncology Professor Nicholas Lygidakis told the Athens News on October 11 that he contacted over 20 experts who responded that they would not transplant a patient with two separate types of cancer. Other experts stressed that the 1993 Milan criteria on liver transplants bars transplanting patients with two separate cancer loci, which is why a US transplant centre was chosen.

Despite the debate over the course of action, no Greek medical expert doubted the expertise of Tzakis, who is considered internationally to be among the foremost experts in his field. Thomas Starzl, who performed the first liver transplant in the world and under whom Tzakis worked for years in Pittsburgh, told the Athens News in July that he had "full confidence" in Tzakis.

Professor Christoph Broelsch, a transplant surgeon at Essen University who examined Christodoulos in July and had recommended chemoembolization, told a private Greek TV station that the archbishop's condition is incurable.

"I'd give him the best supportive care, take his hands and pray with him, and give him the best days he can have for the rest of his life. Nothing scientifically proven can improve his condition without major side effects or complications. Be grateful for every sunny day in Greece and keep the doctors away," Broelsch said.