By Kathy Tzilivakis

THE GOVERNMENT has decided to scrap the 900 euro application fee for the new longterm resident status - a European Union-wide permit that is valid for five years and almost automatically renewable.

That's the inevitable conclusion after more than a year of bad press over the hefty fee. Criticism came from the office of the ombudsman, the Council of State (Greece's highest administrative court) and from local migrant rights organisations.

The 900 euro fee, which was introduced last year in the new immigration law 3386/2005, was eliminated at the last minute. It was not included in the presidential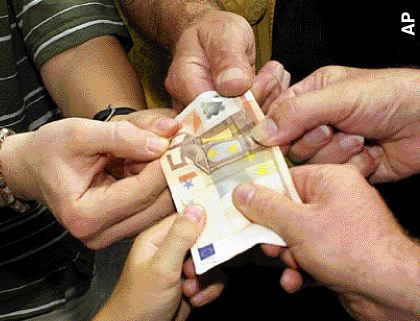 Immigrants, hold on to your money
decree published in the Government Gazette two weeks ago. A previous version of the decree, which was made public several months ago, included the fee.

Interior Minister Prokopis Pavlopoulos had staunchly defended the application fee. He had told the Athens News last year that the "fees are necessary in order to pay for the public administration involved". Critics, however, argued that 900 euros - two months' minimum wage for most immigrant workers - is just too high.

Whether the government openly admits it or not, policymakers appear to have caved in to criticism that the 900 euro fee would discourage many eligible immigrants from applying for this new status.

Local immigrant community leaders and rights advocates have long been lobbying for a reduction in all residence application fees, which they say pose a heavy burden on migrants. Costas Botopoulos and Marilena Koppa, chief immigration policy advisors of main opposition Pasok leader George Papandreou, have also criticised the application fees. It should be noted, however, that fees were introduced by Pasok in 2001.

Currently, the residency application fees range from 150 euros to 900 euros (for a permit valid indefinitely) and 1,500 euros for Greek citizenship.

As previously reported by the Athens News, at least a quarter of a million immigrants in Greece fulfil the main application requirement - at least five years of legal residence.

The application procedure officially begins next month.

One step forward, two steps back

The good news is that immigrants can now afford to apply for the new longterm resident status. The bad news is that they still have to prove fluency in the Greek language and history by taking special mandatory classes. However, there are not nearly enough teachers and classrooms to satisfy the demand. For instance, only five language-learning centres will open their doors in Athens next month.

Applicants will be required to successfully complete an advanced-level Greek-language course. But not any lessons will do. Immigrants must pass a level-four class administered by the Institute for Lifelong Education (IDEKE), which was established in 1985 by the education ministry's General Secretariat of Adult Education.

They will be required to complete the 100-hour level-four course, as well as an additional 25 hours of instruction in Greek history and culture. A certificate will be issued upon passing a final exam. IDEKE also offers level 1-3 courses, to prepare students for the final course.

It remains to be seen what measures the government will take to ease a massive nationwide application bottleneck - a very likely scenario if the number of Greek language and history lessons are not increased substantially.



The rules

Under the new longterm resident status, which was unanimously backed by all EU member states in November 2003, third-country (non-EU) nationals are entitled to five-year-duration residence and work permits after having lived in an EU country for at least five years. This new status is based on EU directive (2003/109/EC). According to immigration law 3386/2005, immigrants may start applying as of September 2006 (five years from the 2001 nationwide legalisation of undocumented migrants).

The application is submitted at the local municipality. The application requirements include

1. A photocopy of your passport or other valid travel document

2. A photocopy of your valid residence permit

3. Photocopies of your income tax returns for the past two years. Your annual income must be at least 8,500 euros, plus 15 percent (or 1,275 euros) for each dependent family member (spouse and/or child). This means that if you are married with a child, your income must be at least 11,050 euros.

4. A document issued by the tax office stating that you do not owe any unpaid taxes

5. A document issued by your social insurance fund stating that you have full medical and hospital coverage

6. A document issued by your social insurance fund stating that you do not have any unpaid insurance fees

7. A photocopy of your rental contract (certified by the tax office) or the title deed of your home

8. Proof of "sufficient" knowledge of the Greek language and Greek history and culture. You are required to submit a certificate issued by the education ministry's General Secretariat of Adult Education. The courses are free. It takes about three months to complete 100 hours (three three-hour lessons per week).

9. Three colour passport-size photographs

Under EU law, those who secure this status will enjoy equal treatment with nationals as regards:

* access to paid and unpaid employment, conditions of employment and working conditions (working hours, health and safety standards, holiday entitlements, remuneration and dismissal)

* education and vocational training, recognition of qualifications

* welfare benefits (family allowances, retirement pensions etc) and sickness insurance

* social assistance (minimum income support or retirement pensions, free health care etc)

* social benefits, tax relief, access to goods and services; freedom of association and union membership; freedom to represent a union or association

* free access to the entire territory of the member state

Those with the longterm resident status also enjoy "enhanced protection" against expulsion. This means they may only be expelled from the member state if they pose a "serious threat" to public order or domestic security that affects a fundamental interest of society. Such decisions may not be founded on economic considerations.

A longterm resident and his/her family also have the right (under certain conditions) to live and work in a member state other than the one that granted him/her the status. The second member state may refuse applications for residence only where there is an actual threat to public policy, public security or public health.

Who can apply?

All non-EU nationals over the age of 18 who have resided legally in Greece for five or more years are eligible to apply. Immigrants in Greece for study or vocational training purposes, however, are not eligible. Those who remained outside Greece for more than 10 months during the five-year period will also not be eligible. The same applies for asylum-seekers and refugees.