Bishop Kallistos Ware to Visit Hartford

Special 75th Anniversary Guest Lecture by World Renowned Theologian

The inaugural lecture of the 75th Anniversary Lecture Series of the Cathedral of St. George in Hartford, Connecticut will be given by His Grace, Bishop Kallistos Ware of Oxford University, England. On a tour of several east coast cities, Bishop Kallistos will be present on October 15th to celebrate the Divine Liturgy at 10 am and to deliver an address at 5 pm, both at the Cathedral on 433 Fairfield Avenue, Hartford.


Recognized world-wide as a distinguished theologian and scholar, His Grace for many years has been a faculty member of Oxford University, where he serves both as don and spiritual leader for the Orthodox faithful of the academic community. He is best known among Orthodox Christians for his books, The Orthodox Church and The Orthodox Way. On his first appearance in Hartford, Bishop Kallistos will speak on the subject of Holy Communion in a presentation entitled, The Eucharist, A Continual Miracle. The public is invited to attend both events.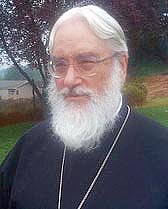 His Grace Bishop Kallistos Ware
"The Eucharist: A Continual Miracle
How Do We Prepare for Holy Communion
How Do We Give Thanks?"


Sunday October 15, 2006
5:00 P.M.
St. George Cathedral
Matthews Fellowship Hall
Refreshments will be served
St. George Greek Orthodox Cathedral
433 Fairfield Avenue
Hartford, CT. 06114
Telephone: (860) 956-7586 Fax: (860) 956-1377
Email: stgeorge@stgeorgecathedral.org

Very Rev. Archiamndrite John A. Heropoulos, Dean

---
(Posting date 29 September 2006)
HCS readers can view other similar articles and releases in our extensive, permanent archives at the URL http://www.helleniccomserve.com/contents.html. For additional information about the organization in this article, see its official website or contact it directly.

---

2000 © Hellenic Communication Service, L.L.C. All Rights Reserved.
http://www.HellenicComServe.com