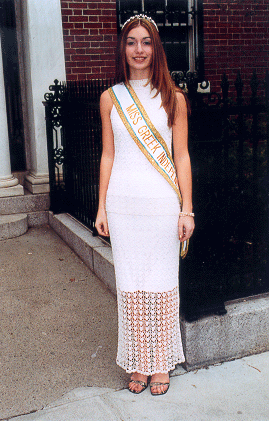 Krystal Babalas, Miss Greek Independence Day 2001
Belmont resident and high school senior Krystal Babalas was recently a contestant in the Miss Massachusetts Teen U.S.A. Pageant 2002, held at the Westin Hotel in Waltham on November 18, 2001. One of 92 young women vying for the title, Krystal was selected as a finalist, and was awarded the place of 4th runner up along with a commemorative plaque and prizes from the Miss Universe Organization.
Last March at the 57 Hotel in Boston, the Hellenic Federation Of New England crowned Krystal the area's first ever Miss Greek Independence Day, and made her Honorary chairperson of the Youth Commission. Twenty one girls competed in this contest. Runners up included Christina Voulgari (16) and Soula Hatziliades (21).

As Miss Greek Independence 2001 Krystal's public appearances have included a radio interview on a local Greek program, and visits to City Hall and the State House. She met Boston Mayor Thomas Menino and Massachusetts Governor Jane Swift, and opened the Greek Independence Day parade on the first float.
Krystal will reign till March of 2002. She will, when invited by Hellenic organizations, be happy to attend their functions as a proud representative of the youth of New England.

Krystal Babalas has studied the art of classical ballet for the past 13 years. During the last eight years, she has danced with Boston Ballet in their professional track. She has danced in over 300 performances at The Wang Theatre for the Performing Arts.

Taking a break from dance this year has enabled Krystal the ability to pursue other interests. She is presently interning and volunteering at the Sports Medicine Clinic at Childrens Hospital in Boston. Krystal continues to work very closely with dancers and the ballet world.