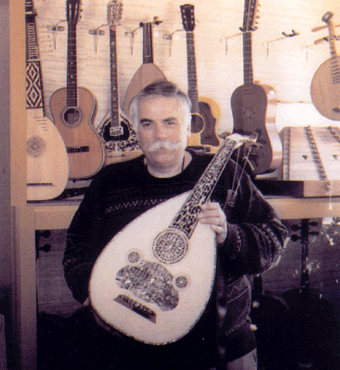 Peter Kyvelos
Washington, D.C
. --The Greek Music Society of Boston has announced the awarding to Peter Kyvelos of a 2001 National Heritage Fellowship. It is the country's highest honor in the folk and traditional arts.
This award is given annually by the National Endowment for the Arts to a dozen artists, selected from approximately 250 nominees. Kyvelos was awarded the fellowship as a master maker of the oud.
He is deservedly known as the Stradivarius of the oud. It should be noted, however, that his talents are not only restricted to making and repairing ouds. For over three decades he has applied his skills equally to building and repairing instruments, from violins and cellos to bouzoukia, santouria, mandolins, guitars, kanonakia and lyres.
What is less known is that Kyvelos is also a top rank performer on the oud. For the past four years, the Greek Music Society of Boston has brought the talents of Kyvelos, as well as other great performers in New England, out of the nightclub and onto the concert stage.
In October, Kyvelos was a featured performer with the Greek Music Society of Boston ensemble in a concert of Greek and Middle Eastern music at the Maliotis Cultural Center. All proceeds went to the Twin Towers Relief Fund.