La Verne Students to Feel Betrayed
Athens News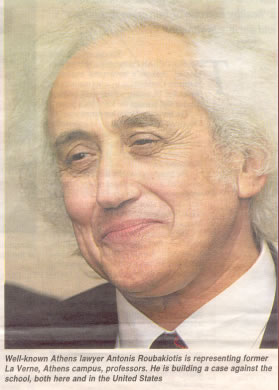 A lesson in hard choices: Hundreds
who had enrolled at the now defunct
Athens branch of a southern California
university are now desperate
to make the best of a bad situation
By Kathy Tzilivakis
Two months after their college collapsed in a financial scandal, the students of La Verne University, Athens campus, are beginning to settle into new courses at other Institutions. Many, however, are distraught at not being able to find courses that match their original studies and they complain that some of the credits they acquired at La Verne are not being recognized by the new institutions.
Former La Verne students are reporting back that they are unhappy, explained Adrianne Kalfopoulou, the former chair of the Humanities Department at the now defunct Athens campus. "It was the last thing in the world we expected. They betrayed us. We, the students, believe we were attending a university that was recognized and well-respected," said 25-year-old English major Filia Kahramani. She transferred to the American College
of Greece (Deree).
"Deree is different. It's not bad, just different," she added. "I now have to take more courses because some credits were not recognized and because there are more
requirements."
One 19-year-old Greek-American student, who also enrolled at Deree, said the closure of La Verne here is a "great loss". We actually learned stuff there," she told the Athens News on the condition of anonymity. "Coming from a Greek high school, I personally loved the education that La Verne offered. I feel that no one recognized what we had and gave up on it very easily… I'm not motivated any more. I've lost my motivation over the whole situation."
La Verne, Athens, founded more than a quarter of a century ago, was once jewel among the private university overseas branches in Greece. It was one of the oldest, most reputable and most expensive of such institutes here. Its closure was so sudden, that students and staff were only informed of it two days before that start of their autumn semester.
Representatives of this small liberal arts university in California, Jeff Nonemaker and Peter Wilkons, are currently in Athens to assist students who had enrolled for the Fall 2004 semester with transfers to the handful of other American universities here.
"We are trying to get things together and to sort things out," Nonemaker told the Athens News. "We're making progress."
For some, though, it's too little too late. Natalie Plexanova, 18, the closure required her not only to change schools, but also her course of study. "I was studying economics and politics at La Verne and now I'm studying hotel management at Alpine (Center for Hotel and Tourism Management Studies), which is completely different," she said. "I've lost all my credits."
Plexanova, who is originally from Russia, is still trying hard to adjust to the new environment and said she misses the campus atmosphere at La Verne. "I miss the extra-curricular activities at La Verne," she said. I was there for only one year, but it felt like home. That's why I feel betrayed. Even if La Verne were to open again, I wouldn't trust them. When someone betrays you, you don't want to have anything to do with them any more.
Students are trying hard to adjust. "It's a very big change," added one fourth-year student, who is now enrolled at the University of Indianapolis, Athens.
"I spent two weeks running around and looking into all the possibilities before choosing Indianapolis," the 21-year-old student told the Athens News on condition of anonymity. "It's different here. First, the campus is much smaller the La Verne. And it's a different way of education than at La Verne.
California Dreaming
Former Athens campus students were presented with the option of transferring to California to complete their degree with a tuition rate equal to the rate of the Athens programme (about 8,000 dollars compared to the 21,500 dollar tuition currently charged by the university in California). The offer also includes on-campus housing, if available, at no extra cost for one year, as well as a 14 week meal plan.
In a message to the former Athens students, Gordon Badovick, the dean of the College of Business and Public Management at La Verne, California, also said a "matrix of course options" are being offered online or through the University of Indianapolis, Athens.
"We recognize that many of you are deeply concerned about your progress towards earning a graduate degree from the University of La Verne," said Badovick in a letter. "Please be assured that we will do everything possible to help you complete your degree requirements in a timely manner."
Of the estimated 600 students who had enrolled for the Autumn 2004 semester at La Verne, Athens, only about 100 decided to transfer to California. The rest enrolled at other American university campuses in Athens, mainly Deree University and the University of Indianapolis, Athens.
See You in Court
Former students short-changed by the sudden closure of the Athens campus are filing a class-action lawsuit against La Verne in California. They are seeking between 500,000 and 600,000 euros each for emotional stress.
Athens lawyer Sethis Anastasakos is handling the case. A court date has been set for the end of January 2005.
An Athens court has already ordered the seizure of up to 600,000 euros in assets belonging to the University of La Verne.
Former La Verne, Athens Campus, professors are also suing for back pay and severance. Their lawyer, Antonis Roubakiotis, is building a case against the Somateio (the body that used to run La Verne, Athens) and the home campus in California. He has filed pre-emptive applications against both for the seizures of assets.
Roubakiotis said he will argue that the university's firings of the professors are not valid because no compensation was awarded. "We are obliged to fight," he added, "because we believe that it was a well-planned move for the professors and staff to be thrown out on thestreet without any severance pay."