Rebetiko on the Internet

A London student has created a site dedicated to "the fabulous women who make the rebetiko famous." It includes stories about the performers, discographies, and a useful collection of links. The most exciting feature, though, is an astonishing collection of recordings dating back to the twenties, and featuring many of the most notable female perfomers. You'll need a Real Audio player (comes with many new computers) to hear the recordings.



The Athens News

The Athens News, Greece's only English-language daily newspaper, was founded in 1952 by Yannis Horn. It has regular sections covering every aspect of Greek news -be it politics, social issues, business, arts & entertainment and sports- as well as international news. Weekly features include analysis of domestic and foreign affairs by leading academics and experts, humour columns and reader contributions. Domestic news is covered by a staff of over 20 full-time journalists and regular contributors. The paper also benefits from its collaboration with the leading Greek daily Ta Nea and respected weekly To Vima. Foreign news sources include Reuters, the Associated Press, the New York Times Service and the Washington Post-Los Angeles Times Service. The Athens News is also considered essential reading by Greek politicians, civil servants and businessmen as well as Greeks abroad.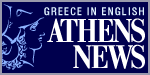 Orthodox Christian News Service

Service provides news, editorials, and opinion pieces covering all aspects of the Orthodox church. Intended to provide an impartial source of Orthodox Christian news as well as an open forum for Orthodox Christians from all jurisdictions both in the United States and abroad. The service was recently donated to OCL (the Orthodox Christian Laity), which pledged to continue the existing editorial policy of impartial news reporting.



Greece In Print

Order Greek books, music, videos, and other items via the web. A service of the Hellenic Literature Society, which works to foster the reading of books of Greek literature and culture and to disseminate Greek literary information worldwide.