International pressure mounts for a name settlement as Nimetz tours the region and Athens pledges generous aid if an agreement is reached

GEORGE GILSON
UN MEDIATOR Matthew Nimetz appeared hopeful of settling the issue of the name of Former Yugoslav Republic of Macedonia (Fyrom) after talks in Athens and Skopje, but he indicated that any solution will likely come after the June 1 Fyrom general elections.

"Generally, during an election period in either country it's more difficult time to do these types of negotiations," he said.

International pressure on both sides to reach a settlement - from the US, EU and Nato - will make a push for a rapid settlement more intense after the Fyrom polls. Nato Secretary-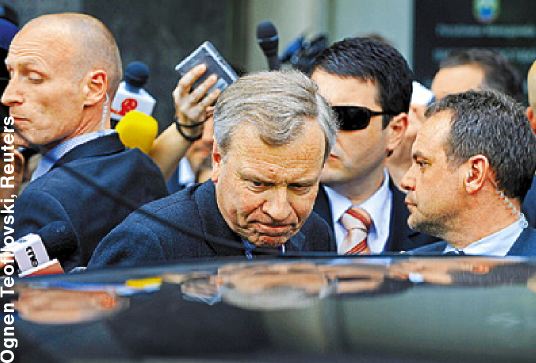 Nato Secretary-General Jaap de Hoop Scheffer leaves after
talks with the press in front of the foreign ministry in Skopje on
April 21. During a short visit to Skopje Scheffer urged the
Former Yugoslav Republic of Macedonia to seize the
opportunity to solve the name dispute with Greece till July 9
so it could join Nato together with Albania and Croatia
General Jaap de Hoop Scheffer visited Skopje on April 21 and expressed hopes that Fyrom may accede on July 9 with Croatia and Albania - who were approved at the alliance's April 2-4 Bucharest summit where Greece vetoed Fyrom's entry - if the name issue is solved by then.

Before Scheffer's visit, Fyrom President Branko Crvenkovski, in a letter to UN Secretary-General Ban Ki-moon, charged that Greece, in vetoing Skopje's Nato entry, breached a bilateral 1995 interim agreement, which allows Skopje to enter international organisations as Fyrom. Greece counters that Fyrom has trampled on the agreement from the start - moving to undermine the interim name by seeking recognition as "Republic of Macedonia" and engaging in irredentist propaganda. Premier Costas Karamanlis, in a letter to the UN chief made public on April 21, repeated those arguments.

Nimetz suggested that such a prospect is possible if there is the political will on both sides. "I do think that the events of the last month have put a different cast on the whole situation, highlighting the importance of getting this done and the need for the sides to focus more intensely on where their real national interests are and where there is room for compromise," the UN envoy said.

"I said that if the two sides are ready to settle this, it could be accomplished within days," Nimetz said.

Germans step in

EU countries are also pressuring for a solution, as was evidenced by German President Horst Koehler's remarks during an April 16-17 visit to Skopje. "I would like to appeal to the Greek government to express readiness for compromise for solving the name issue," the Associated Press quoted Koehler as saying. He also met with the local Archbishop Stefan, who is considered schismatic in the Eastern Orthodox Church system.

For Fyrom, where the separatist uprising of the country's large Albanian minority in 2001 brought the country to the verge of civil war, Nato membership is a top national priority. That priority was further underlined by the regional threats posed by Kosovo's recent declaration of independence. While the political cost of changing the constitutional name of Republic of Macedonia has until now been considered too high, most believe that the benefits of Nato and EU membership far outweigh the cost of a dignified compromise.

No invitations yet

Asked by the Athens News when he will call new talks or table fresh ideas, Nimetz said he will think about whether to invite the negotiators to New York or come back to the region himself. "I'm not presenting any new or old proposals. From time to time as mediator, I give some suggestions. These are confidential suggestions. Often they get out into the public because of the brilliance and efficiency of the press in both countries. I think in the long term these suggestions will lead to a successful conclusion," Nimetz said, diplomatically criticising government leaks and hinting that one of his already tabled proposals may be hammered into a settlement.

The Greek government has repeatedly suggested - mainly through Bakoyannis - that Republic of New Macedonia is a name that it could sign on to, if the other aspects of an agreement were acceptable. After the Nimetz visit, foreign ministry officials attempted to convince doubtful journalists that that name fulfils Athens' demand that a geographic marker (eg north or upper) be attached to the name "Macedonia".

In Athens on April 18, Nimetz made clear that Greece's vetoing of Fyrom's Nato entry had an impact on Skopje. "I think the Nato communique and other extraneous statements by the community of nations have urged the parties, in the interest of security in the whole region, to try to resolve this. I think in Skopje there is a sense that a resolution of this issue would be of extreme benefit to the country," Nimetz told journalists after talks with Bakoyannis.

For the time being, the name dispute has been used more as a political card in the raging electoral campaign, in which candidates appear to be vying to persuade voters that they are the most patriotic.

Fyrom funding

Bakoyannis was accused by the Skopje press of a crude bid to buy off the Fyrom government, after she suggested in an April 20 interview with the conservative newspaper Apoyevmatini that a settlement will lead to increased Greek aid.

The Fyrom foreign minister, Antonio Milososki, declared that Greece is handing out funding that it got from the EU, and that his people will "remain Macedonians".

But the Greek foreign minister had referred to economic assistance from Greece's national foreign aid programme, and apparently to already slated funding. "The budget for projects in Skopje is about 75 million euros, which will be spent mainly on the pan-European Corridor 10, which takes Fyrom out of isolation. Through it, they are linked with Greece to the south and the whole EU to the north, passing through Serbia," Bakoyannis said.

Bakoyannis also held another carrot out to Skopje, with promises of a gradual elimination of the visa requirement and aid to small Fyrom businesses.

Still, the Greek foreign minister conceded that prospects of reaching a settlement amidst a Fyrom general election campaign "are not very many".

With Greece clearly hoping to avoid the additional political cost vetoing the opening of Fyrom-EU accession talks later this year, Bakoyannis stressed that she hopes "a solution will have been found by year's end". "We address the people of our neighbouring country telling them that honestly we harbour sentiments of friendship and that solving this issue will create an entirely different perspective for the country and its people," she said.

Still, she insisted that Athens will display the same resolve in the EU as it did in Nato, vetoing Fyrom's talks if it fails to compromise on the name issue.

Greece insists as well that any settlement be enshrined in, and guaranteed by, a new UN Security Council resolution.