Vatoussa Revitalization Foundation
Mission

Founded in 1999 by a grant from the Christos and Mary Papoutsy Charitable Foundation, this new organization aims to improve the public welfare and to preserve the history, physiognomy and tradition of the village of Vatoussa as well as to enhance its beautification and to work to improve the standard of living and quality of life of its residents.

Board Members

Mr. John Bosen, Esq.
Mr Christos Papoutsy
Prof. Nina Gatzoulis
Mrs. Mary Papoutsy
Mr. Evangelos Gdondelis
Mr. Dimitrios Paptsas Mrs. Irini Kalontzis Mrs. Joanna Sfekas Karvelas
Mr. Dimitrios Konstantellis
Mr. Avel Spanellis
Mr. Ioannis Mamatsis
Mr. Christos Stavrakoglou
Mr. Ioannis Manoukas
Fr. Evangelos Ververis

St. Nicholas Chapel Walking Trails Project

One of the projects of the foundation is the development of walking trails and rest areas for the small St. Nicholas chapel on the outskirts of Vatoussa. George Sosonides, a leading architect based in Kalloni, has drawn up architectural plans for the trails with retaining walls, park benches, fountains, and directional signs. Plans call for the project to be phased in over several years, beginning in 2001.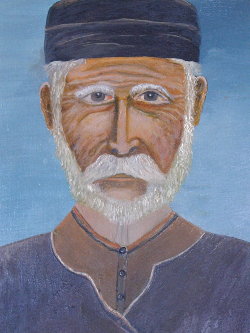 Panagiotis Malamellis: Former Village Post
Office, Now Foundation Office (above),
Traditional Costume (below)