Following the exhibition, costumed ushers from the dance troupe Sons and Daughters of Alexander the Great escorted viewers into the concert hall for a two-hour performance by the Hellenic and Near Eastern Musical Society Ensemble.
Ms. Demetra Apostolou-Tikellis, Events Committee Co-Chair, served as Master of Ceremonies for the capacity crowd and introduced Mr. Tasos Vouthourellis, President of the Pan-Lesvos Association of New England, who briefly addressed the audience, and then introduced Mrs. Mary Papoutsy, Events Committee Co-Chair who welcomed the 25-piece orchestra. Led by Mr. Christos Papoutsy, this new musical group performed a number of toe-tapping, traditional favorites,along with more contemporary pieces by Hatzidakis and Theodorakis, and drew resounding applause with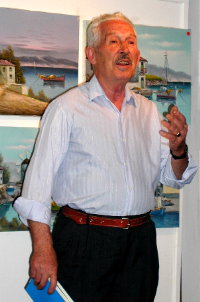 Panayiotis Malamellis
calls for encores. Among the many dignitaries attending the event were representatives of the Greek consulate in Boston, Ms. Ekonomou, the Vice-Consul, and Mr. Dino Siotis, the Director of the Press Office, along with Mr. Arthur Dukakis, President of the Costas and Mary Maliotis Charitable Foundation, Mr. Panos Spiliakos, Director of Development at Hellenic College, and Fr. Nicholas Triantafilou, President of Hellenic College.
At the conclusion of the concert, Mr. Malamellis received an award plaque in recognition of his assistance and contributions to his village. The plaque was presented by Mrs. Apostolou-Tikellis and Mr. and Mrs. Papoutsy on behalf of the members of the events committee: Christos and Meni Dafnoulelis, Bill and Nina Gatzoulis, Ioannis and Anna Kamyvsellis, Bill Kotzampaldiris, Chris Orphanides-Johnson, Tina Papadopoulos, Andrea Papoutsy, Mikel Papoutsy, Chris Psilos, John Psilos, and Kostas Romneos.