Also in Headline News
AHEPA Urges Support for Cyprus Resolution

America's largest Hellenic organization has called for support of a Senate resolution urging the President to undertake efforts to end restrictions on the freedoms and human rights of the enclaved people of Cyprus. In a press release, the American Hellenic Educational Progressive Association (AHEPA) encouraged members and supporters to contact their senators concerning the resolution, which was introduced in March by Sen. Olympia Snowe (R-ME).

Currently before the Senate Foreign Relations Committee, the Snowe resolution expresses an intention to remain actively interested in the Cyprus situation until basic human rights and fundamental freedoms are restored, respected, and safeguarded. This May, the European Human Rights Court found Turkey guilty of human rights violations in Cyprus. In 1974, Turkish troops occupied 33% of the island nation, leaving 20,000 people enclaved in the occupied area. Today, that number has diminished to 593, including 428 Greek Cypriots and 165 Maronites. The enclaved people continue to be subjected to restrictions.

Ten Democratic Senators and one Republican have co-sponsored the Snowe resolution. The co-sponsors are Sen. Joseph Biden, Jr. (D-DE), Sen. Richard Durbin (D-IL), Sen. Dianne Feinstein (D-CA), Sen. Tom Harkin (D-IA), Sen. Edward Kennedy (D-MA), Sen. Carl Levin (D-MI), Sen. Barbara Mikulski (D-MD), Sen. Jack Reed (D-RI), Sen. Paul S. Sarbanes (D-MD), Sen. Arlen Specter (R-PA), and Sen. Robert Torricelli (D-NJ). For more information about the resolution and AHEPA's position, visit the AHEPA website.


AHEPA, formed in 1922 to protect Greek-Americans from hate groups such as the KKK, has an impressive history of advocacy on behalf of Hellenism at home and overseas. In May, seven AHEPA members crossed the Green Line dividing the island of Cyprus and visited one of the last remaining Greek enclaves in the occupied area. AHEPA also keeps track of congressional voting records on issues of importance to Hellenes. In its 2001 Congressional report card, AHEPA gave high marks to several New England senators. But Sen. Lincoln Chafee (R-RI), Sen. James Jeffords (I-VT), Sen. Bob Smith (R-NH), and former senator and current Attorney General John Ashcroft all received mediocre or poor grades from the Hellenic organization.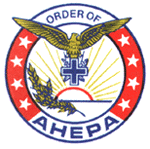 Horizons Broaden for Modern Greek Students at UNH
The student reads aloud in Greek. It's a passage from To Trito Stefani, the celebrated novel by Kostas Tachtsis concerning two Athenian women and their observations of life during and after the Nazi occupation. "Very good," the teacher says. "Now can you translate it for me?" By Robert Herschbach


Panayia of Tinos

In March, the community of St. John the Baptist Church hosted an evening of Greek images, literature, music, iconography, and narration from the Greek island of Tinos. By Christos and Mary Papoutsy