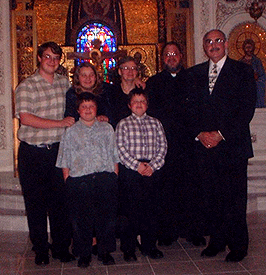 Father Constantine Newman with his family and president of the parish council, George Coussoule at the front of the altar of the Annunciation Greek Orthodox Church of Dover, NH.

Dover, NH --
The new pastor of the Annunciation Greek Orthodox Church in Dover is Father Constantine Newman. Father Constantine converted to Orthodoxy in 1988 while he was a Professor of Classics at the University of Hawaii. He and Presbytera Anna had met while studying together at the Thesaurus Linguae Latinae in Munich, Germany, in 1984 and they married in 1985. Their first son, Nicholas, was born in 1986. Their daughter, Elena, was born in 1990. That year they left Hawaii for Father to attend Holy Cross Seminary in Brookline, MA. He was ordained a deacon in 1992 and a priest in 1993, a few months after the birth of their twin sons, Alexander and Dimitri. His first parish was St. George in Pittsfield, MA, and his second was St. Nicholas in Lexington, MA. In September 2001 Metropolitan Methodios assigned Father Constantine to the Annunciation Greek Orthodox Church of Dover, NH. Father Constantine has also prepared a series of lectures for the Department of Religious Education of the Greek Orthodox Archdiocese of America. His lectures can be found on the web at
http://www.goarch.org/webcasts/fall2000/winter2000.html.
-- Bill Gatzoulis

See also: Annunciation Church in Dover Celebrates 95th Anniversary