As a young man, he traveled as a freelance guitarist and oud player. He played with Fred Elias and his ensemble, and played in nightclubs such as the Club Kiam and El Morocco in Boston, the Pine Tree Inn in Onset, Venus de Milo in Swansea, Westgate Lounge in Brockton, Bishop's in Lawrence and the Governor Dyer House in Rhode Island.

Nick was well known in the Rhode Island circuit after playing there extensively, and it was in the early 1960s that he, the "token" Greek and four Armenian musicians (Zaven Donabedian, Leo Arzoomanian, Bob Portukahan and Carnig Mikitanan) formed the "Hye Eye" Orchestra. They featured a record titled "Near East Meets West", which included Armenian, Greek, Turkish and Arabic music on the "Vark" record label, produced by Varkis A. Makarian and recorded at Ace Recording Studios in Boston.

Nick was well known as the guitarist for the then popular Greek band, "The Trio Moderno", from the mid 1960s to early 1970s. The "Trio" played at countless functions in Massachusetts, New Hampshire and Rhode Island areas. They were a most sought-after band at that time, often asked to "open" for the famous Trio Bel Canto when they came to this area.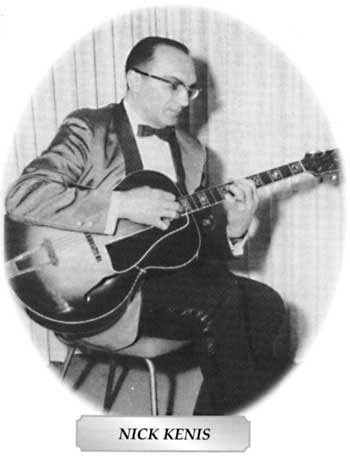 Nick was a special musician because he was selftaught. His only formal lessons in music were as a young child. He achieved the title of a professional musician on his own, playing mostly by ear. He was an expert at playing "taxims", something that not many musicians could do. He studied these complex pieces by listening to his prize collection of old 78 rpm records.

Unfortunately, Nick passed away on August 31, 1974. Ironically, he was playing his guitar and singing at a family function when he suffered a fatal heart attack. He was loved by many people and inspired other young musicians to have the same "kefi" that he brought to all the audiences for which he played.