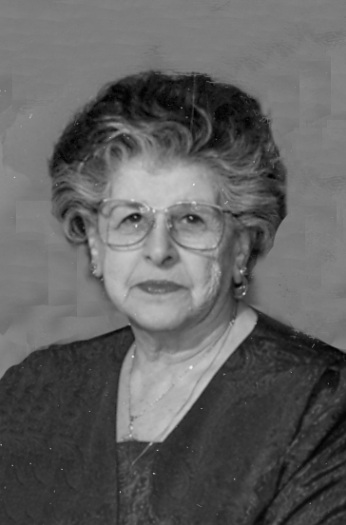 Ethel Spirounias of Biddeford, Maine died Saturday, January 5, 2013. Born in Biddeford on November 11, 1916, she was one of twelve children and the last surviving offspring of John and Pota (Patrikakos) Spirounias. She grew up in Biddeford and Saco and attended public schools there.

She acted in loco parentis to nephew John Kostopoulos, and in later years, had a special relationship with his daughters, Margo K. Keeley of Old Orchard Beach and Stephanie K. Thayer of Falmouth. She also took an active part in raising several nieces and nephews who lived in Biddeford and Saco. Her love of children was further evidenced by the fact that she had ten godchildren, to whom she was always very attentive. After all her siblings had married and left home, Ethel remained to care for both of her parents.


Ethel worked many jobs over the years. These included the WPA, local mills, and then, for 45 years, the Main Castle, until 1991. She was a member of St. Demetrios Greek Orthodox Church and, in her younger years, St. Fotini Society, a philanthropic sorority.

Her sense of humor was one of her outstanding qualities: she will be remembered as a fun-loving aunt, sister, godmother, cousin, and friend, and will be deeply missed by all who knew her.

She played a very mean game of Scrabble and was an avid reader. Her other hobbies were sewing, crocheting, tatting, needlepoint, beano, and traveling. Some of her favorite vacation spots: The Bahamas, The Virgin Islands, Puerto Rico, other Caribbean islands, Bermuda, Canada, Mexico, The Canary Islands, Greece, Turkey, Ireland, England, Florida, Tennessee, New York City, Atlantic City, and Williamsburg, Virginia.

Surviving are her nephews, Charles Antonacos and John Spirounias of Biddeford and her nieces, Kathleen Hefner of Quincy, Massachusetts; Georgia Lekanides of Flushing, New York; Patricia Consalvo of Santee, South Carolina; and numerous grandnephews and grandnieces.

Visiting Hours will be 6:30 to 7:30 p.m. on Tuesday, January 8, 2013 at Hope Memorial Chapel 480 Elm Street, Biddeford, ME 04005. A funeral service will be held at St. Demetrios Greek Orthodox Church in Saco on Wednesday, January 9, 2013 at 10:00 a.m. To share condolences online, please visit www.HopeMemorial.com. Donations to St. Demetrios Church or to St. Demetrios Cemetery can be made in lieu of flowers.