On March 6, 2011, the Orthodox Christian Network (OCN), an agency of SCOBA (The Standing Conference of Orthodox Bishop in America) and now working within the context of the Assembly of Canonical Orthodox Bishops in this country began a year long celebration in honor of the 15 Anniversary of Broadcasting. The Gala event was held at the home of Dr. George and Donna Zoley on the beautiful Intracoastal Waterway in Ft. Lauderdale. The event was especially important as the Executive Director and Founder of OCN thanked listeners throughout the country and around the world for their support and highlighted the immense growth over the past decade.

Over 100 people were treated to a sit down dinner which included supporters made up Members of the Board of Directors as well as Leadership 100 Members, Archons, Members of the Archdiocesan Council and parishioners of parishes in South Florida and around the country. Estelle Sotirhos, OCN Event Coordinator, and Kathy Chapekis, OCN Annual Giving Coordinator, served as co-chairs of the event. Retired UN Ambassador to Greece and Jamaica, Michael Sortihos, was the Master of Ceremonies. Members of the Board of Directors in attendance included Dr. George Mekras, Chairman of the Board, Joann Mitchell, 2nd Vice President as well as board members Evangeline Gouletas and Tom Leon.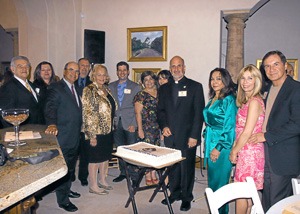 From left to right: Tom Leon (OCN Board Member),Susan
and Ron Spiegel (OCN Staff), Dr. George Mekras (OCN
Board Chair), Estelle Sotirhos (Event Chair), Cameron
Thorpe, Kathy Chapekis, Emmy Louvaris (OCN Staff), Fr.
Christopher, Evangeline Gouletas (OCN Board Member),
Donna and George Zoley (Hosts of the event).



Reverend Dr. Christopher T. Metropulos, priest of St. Demetrios Greek Orthodox Church in Fort Lauderdale, FL, founded OCN with the mission "to strengthen the Orthodox communities of North America and to share the timeless Christ-centered faith of Orthodoxy with the contemporary world by using modern media: radio, the Internet, pod casts, DVD's, television and more."

Today, the OCN has over 1.3 million regular listeners around the world. The Orthodox Christian Network offers three Internet Radio Stations, The Ark, The Rudder and The Anchor as well as numerous podcast channels, a new Orthodox Blog entitled "The Sounding" as well as numerous web casts. All of the offerings can be found at the ministry web site www.myocn.net.