The 25-Piece
Hellenic and Near Eastern Musical Society Orchestra

2006-2007 Schedule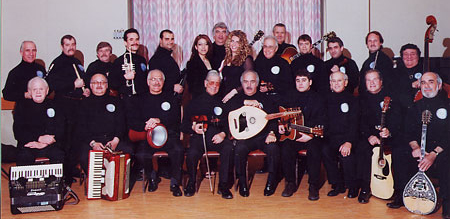 Co-conductors: Fred Elias & Christos Papousty
Administrative Director & Narrator: Mary Papoutsy
Sound Engineer: Peter Buciak

Music for all events contributed by the Christos and Mary Papoutsy Charitable Foundation

Date
Location
Event

Sponsor

Saturday
Oct 21, 2006


Arlington Town Hall
Concert
St. Athansius the Great Greek Orthodox Church-Read more
Friday
Oct 27, 2006


Radission Center of NH
Dinner/Concert
Dance
St. George the Greek Orthodox Cathedral-Read more
Saturday
Nov 4, 2006


Cotsidas Cultural Center at St. Spyridon Greek Orthodox Cathedral
Dinner/Concert
Worcester Hellenic Arts Society
Worcester, MA
Saturday
Dec 9, 2006


St. Vasilios Greek Orthodox Church Community Center-Peabody, MA
Dinner/Concert
Dance
Men's Club
100th Anniversary Christmas Celebration
May 2007
Date TBA


Southern New Hampshire University
(SNHU), Manchester, NH
Concert
Christos & Mary Distinguished Chair in Ethics at SNHU
Oct. 2007
Date TBA


University of New Hampshire (UNH)
Durham, NH
Concert
John C. Rouman Classical Lecture Series Advisory Board

Mission of the Hellenic & Near Eastern Musical Society


The mission of the Hellenic and Near Eastern Musical Society is to promote and enhance awareness of Greek and Near Eastern Music in America. The Society believes that its music represents a key component of Hellenic and Near Eastern culture, transcending all boundaries of age, politics, religion, ethic origin, and socioeconomic strata. Unique in its many artistic forms, the music serves as a universal language, appreciated and understood by all. To quote the noted Greek poet Kostis Palamas, "The ancient Greeks imbued music with meaning, For them, poetry was music, philosophy was music - the highest form of music; everything that systematically and harmoniously shapes life with music; every refinement of the soul was music."


---
---

(Updated 04 January 2007)

HCS encourages readers to view other articles and releases in our permanent, extensive archives at the URL http://www.helleniccomserve.com/contents.html.


---

2000 © Hellenic Communication Service, L.L.C. All Rights Reserved.
http://www.HellenicComServe.com