A two-day rally was short-lived as Greek govemment measures and poor global sentiment scared off investors on the Athens Stock Exchange

By Elaine Green

AFTER two days of a much-awaited raly on the Athens Stock Exchange (ASE) on October 13 and 14, the climate of fear returned on the third and fourth day, October 15 and 16. As global peers crashed again, the local markets followed suit, and the earlier optimism was replaced by panic selling.

European markets took a hammering, tracking the bloodbath in the Asian markets overnight and the UK's weak FTSE. Banks once again suffered the hardest blows. There were signs of some brave buyers snapping up bargains at the end of the FTSE session, however.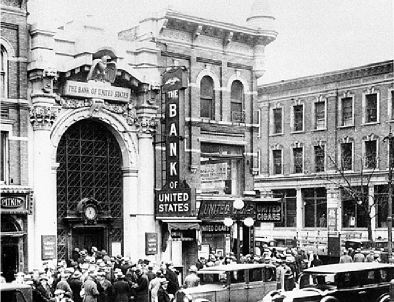 Angry customers hammer at the closed doors of the Bank of the United
States in New York City in 1930. Experts compare the current events
to the Great Crash
"There is no quick fix," one banking expert told the Athens News. "Don't expect the stock market to return to its previous highs - that could take years," he said. "Investors fear that a protracted recession will bite and credit lines will dry up, causing a downslide in industries across the board."

"Even reaching the psychological threshold of 3,000 points on the ASE might not be seen until next year, whatever further stabilisation efforts are made," he said.

The ASE had risen 5.7 percent on October 13 and 2.2 percent on October 14, but closed down a back-to-earth 7 percent with forced selling from foreign institutional investors on October 15 and suffered 5.38 percent worth of punches on October 16. This precisely mirrored FTSE's 7 percent drop on October 15 and over 5 percent on October 16.

Greek banks plummeted, with Alpha down 12 percent and National Bank of Greece (NBG) down 8.4 percent, while Marlin Popular fell 8.9 percent and Eurobank was down 8 percent on October 15. The same banks shed 9.47 percent and 9.7 percent, a less shocking 1.29 percent and 6.33 percent, respectively, the day after.

But it was not just banks that suffered. One of the biggest fallers was gaming giant Intralot, which shed 16 percent on October 15 and 5.36 percent on October 16, while Fourlis, whose assets include the Greek IKEA stores, was down 15 percent on October 15 but a less whopping 2.10 percent on October 16. Leading construction player J&P Avax was down 10 percent on October 15 and 3.25 percent the day after.

Despite the two-day rally, the Greek exchange has still lost some 50 percent this year.

Locally, the government support measures for the Greek banking sector will reach up to 28 billion euros, with the aim of restoring liquidity in the interbank market and recapitalising any bank in case of distress (see also page 5).

"These measures should help to restore investor confidence and are in line with similar measures from other European countries," said one leading broker. Investors may fear that the bailout plan hides a deeper credit crisis than Greek banks care to admit, another observer said (see also page 20).

"There is also much scepticism over whether the government and central bank interventions will be sufficient and this is coupled with concern over third-quarter profits due out," he added.

Blood on the streets

Experts agree that we are living through an unprecedented financial crisis. Many have compared it to the Great Crash of 1929. A combination of share bubbles and consumer slowdown caused that crash, whereas a credit bubble and a looming recession are causing the current downturn. Mortgage lenders have sold far more debt than consumers' incomes, while investment bankers exported their risk to insurers who did not have the capital to pay when it all turned sour.

If the 1929 pattern repeats itself, there may be a much bigger drop to come. After the Great Crash, a rally returned in early 1930, only to be followed by a much deeper crash with numerous bank runs at the end of that year.

* Experts advise shareholders not to panic sell. "Buy when there's blood in the streets" is the famous quote made by Baron Rothschild, who made a fortune during the panic stock exchange of 1871 in Paris by buying when everyone else was selling. "I think now is the time I will start buying," a finance guru told the Athens News. "When people start mass selling stocks, that is the time it is about to turn upwards - it may drop another 10 percent first, but it should see an overall gradual upturn after that."


---
(Posting date 12 November 2008)

HCS readers can view other excellent articles by the Athens News writers and staff in many sections of our extensive, permanent archives, especially our News & Issues, Travel in Greece, Business, and Food, Recipes & Garden sections at the URL http://www.helleniccomserve.com./contents.html

Readers enjoying these articles may wish to subscribe to the Athens News by visiting the website and following online directions at http://www.athensnews.gr.

All articles of Athens News appearing on HCS have been reprinted with permission.



---