On his fondest memories of the Greek culture, Dicopoulos remarks "Growing up as a kid, I loved the Greek mythology. I was an altar boy in a church, as well as a member of AHEPA. What I am most proud of and what I love most about my heritage is that so much has come from it: our language, architecture and custom. These have all come from the Greeks and I am very proud of that. I love the country, the islands, and the hard-working people, which have been warm and embracing, and all about family."

Dicopoulos continues, "I wear my grandfather's ring on my hand. My grandfather from Paliocastron came to the United States without knowing a word of English, and ended up with a very successful restaurant. I found the ring one day in my father's drawer, and I said 'what is this?' and he said 'that's your grandfather's ring.' My father only wears his wedding ring, so I said 'well can I have it? I love what it represents: that he came over, and didn't know a word of English, and ended up being a very successful restaurateur, and he said by all means, I would be honored. I wear it to this day, so every time I look at it, it reminds me of all the hard work, and all the adversity he had to overcome to be a success. It's very positive for me."

On being a soap actor on Guiding Light for the past twenty-two years, Dicopoulos exclaims "it was the greatest job an actor could ever have! It was a lot of hard work, but a whole lot of fun! It was my family away from my family."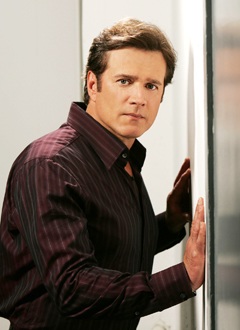 Photo courtesy of CBS Broadcasting Inc.

On starring opposite Emmy award-winning lead actress Kim Zimmer on Guiding Light, he remarks "she's great! She's full of life and a very good friend. She's terrific. She's a professional and a very good actress and a good friend. I had a blast with her"; moreover, Dicopoulos' real-life daughter, Olivia, played the role of Maureen Reardon on the show for two years. "We finally had a scene together toward the end of Guiding Light, which was a lot of fun!"

"My proudest accomplishments include being on Guiding Light for twenty-two years which was very impressive, and re-inventing myself now, and producing and hosting these half-hour reality shows that I am doing. One is called Earth Treasures, which is on cable right now, and one that we are working on is Culinary Workshop, and the third one I am working on right now is 'Fabulous Finds,' which we just shot two weeks ago," the veteran actor reveals.

Dicopoulos is a loving husband to his beautiful wife, Teja Anderson, and a father of two children, Jaden and Olivia Dicopoulos. "You always have to make time for your family. Family first no matter what! Careers come and go, jobs come and go, but family is around forever."

On serving as a panelist for the Hellenic Times Scholarship Fund's (HTSF) Dramatic and Performing Arts Workshop, he notes "I loved it! I enjoyed being there with Michael [Constantine], John [Aniston], Kathy [Sledge, and] Kalomoira. I think it was the perfect panel. It had a little mixture for everybody, featuring singers, as well as film and television actors. I hope people enjoyed it!"

In addition, Dicopoulos voiced the character of "Dean the Dog," in Nick Katsoris' Loukoumi children's book series.

On alternate career choices, Dicopoulos notes that he would be in "marketing or public relations. I love the creativity aspect of it, and I love collaborating with people."

His plans for the future are to be on another series, or to have one of his shows picked up on a regular national network series. "I love acting. I love what I do. I love hosting and I enjoy it immensely. I would love to do a movie at some point," he says.

When asked which actor he would like to collaborate with in the future, Dicopoulos reveals "Jennifer Aniston. I would love to do a movie or TV show with her. I think she's funny and gives an honest performance, and she has a great sense of humor too. I like her work in comedies. I think she's terrific."

For hopefuls who wish to go into acting, Dicopoulos recommends they need to "be prepared for a long haul! You have got to be in it to win it. Don't give up, stick with it! If you really enjoy it and believe in what you are doing, do not give up! Be able to handle rejection."

For Frank Dicopoulos, success means "being proud of what I've done and feeling good about it. It does not have to have monetary value behind it. Success is being on a TV show for twenty-two years that was the longest television show in radio and television history. That was a total accomplishment!"

For his Guiding Light fans, Dicopoulos says "I miss you! I miss the job and everything else. I wish it could all come back, or continue on in some capacity. Thank you for all your years of watching and support!"