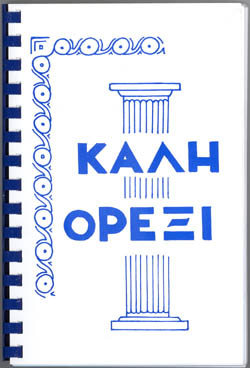 Title: Kali Orexi. A Collection of Family Favorites from the Members of Holy Trinity Hellenic Orthodox Church [Portland, Maine]

Editor: Theodora Lebares,
Advisor: Rev. James Rousakis
Cover and artwork: James Lebares

Publisher: Holy Trinity Hellenic Orthodox Church [Portland, Maine]
Date of Publication: 2005 (rev.); original published 1976.
Language: English

Price: $10.00, plus postage and handling ($3.50)
Description: softcover, spiral-bound, 182pp, with special sections for Lenten foods, hints, and simplified measures.

Availability: Distributed privately through Church community. Contact Church office: Holy Trinity Hellenic Orthodox Church, 133 Pleasant St., Portland, ME 04101, (tel.) 207-774-0281; web www.holytrinitymaine.org.

---

Latest Edition of Kali Orexi--a popular Maine Greek-American Cookbook--Now Available

Ever wanted to try your hand at some of those delectable, home-made Greek dishes and pastries served at Greek festivals? Now's your chance! Send for a copy of Kali Orexi while supplies last. These time-tested cookbooks make great presents and stocking-stuffers. And their title, "Kali Orexi," represents a cultural tradition: the phrase means "Good appetite!" or "Enjoy!" and is considered a polite toast or exhortation to fellow diners as one begins to eat.

In the Maine tradition of solid value, durability, and inclusiveness, the members of Holy Trinity Hellenic Orthodox Church of Portland have produced yet another sought-after edition of their popular cookbook. Always a sell-out, this down-to-earth, home-made volume represents the best of the community's Greek and American culinary dishes. More than 60 members of the community submitted their best recipes, dishes for which they have developed a good reputation among their peers and community. Some of the talented contributors have passed away since the first printing of the book, their recipes now remaining as testimony to their community dedication and service. Click here for a full list of contributors.

Throughout the history of this cookbook's multiple printings and revisions, beginning with its original edition in 1976, the community chose topreserve its pragmatic format: a 5-1/2" by 7-1/2" spiral-bound volume, with plastic-coated covers. It's format makes it useful in a working kitchen: it doesn't take up too much space, folds flat for easy viewing, and can weather nornal kitchen wear.

Kali Orexi is separated into five basic sections: Appetizers, Vegetables, Salads; Breads, Pastries, Desserts; Meat, Fish, Poultry, Main Dishes; Wines of Greece; and Lenten Foods. Within each section are an abundance of recipes, both of Greek traditional dishes and American preparations, nearly 200 in all. About two-thirds of the recipes in each section are for Greek dishes, with the remainder covering an array of American favorites and a few Lebanese and Balkan dishes. Helpful hints and food equivalents at the end round out the tome, with hand-drawn sketches by graphic artist Jim Lebares found throughout. The revised edition of the book has been dedicated to the memory of Jim who worked closely with a volunteet committee to produce it.

HCS has developed a recipe index for the volume, and reproduced two scrumptious recipes below for viewers, both of whose submitters have since passed away, along with a comprehensive recipe index. The first is a pastry recipe of Pauline "Polly" Lebares, whose baking was legendary among friends and relatives. These tasty desserts appear each year at the church's annual festival and pastry bazaar until quickly sold out. The second recipe was submitted by Mrs. Nicholas, another fine cook. The stuffed grape leaves are a great vegetarian plate and can be served as appetizers or as the main dish of a meal accompanied by several other appetizers or "mezethes."


---

Kourambiedes
(Butter cookies with powdered sugar)

1 lb. sweet butter (unsalted)
1/2 cup powdered sugar
5-6 cups flour as needed
1/2 tsp. baking powder
1 tsp. vanilla
yolk of 1 egg

Cream butter until light, add sugar gradually beating well; add the egg yolk and vanilla. Beat. Add flour until the right consistency to form into cookies. Form into crescent shpaed cookies and bake in 350-degree* oven for about 15-20 minutes, or until golden. Allow to cool and dust with confectioners sugar until covered.

Pauline Lebares

*Ed: HCS has replaced the degree symbol with the word "degree."


---

Dolmathes No. 1
(Stuffed grape leaves with rice)

Approximately 50 grape leaves
3 or 4 onions, chopped fine and sauteed in 1/3 cup of oil
1 cup of rice
1/2 cup chopped parsley
1/3 cup chopped mint
1 tsp. salt

Prepare fresh grape leaves by boiling for 5 or 6 minutes, drain and allow to cool.

Add rice to sauteed onions and cook slightly.

Add parsley and mint and salt. Cover and let stand a few minutes.

Open grape leaves, usually 5 or 6 at a time and place about a teaspoon of the rice mixture near the stem of the leaf (with the shiny side down) and roll folding in the sides as you roll. Place in pan, not too close together. Cover the top with a plate to hold them down.

Next add two cups of hot water, two bouillon cubes, and the juice of a lemon. Slowly cook until rice is done. Can be used as hors d'oeuvres or as part of your main meal.

Mrs. Andrew Nicholas


---

Kali Orexi Recipe Index

HCS has compiled a complete listing of recipes--a recipe index with page numbers--for online visitors to download and add to their own copies of this fine cookbook. Kali Orexi!