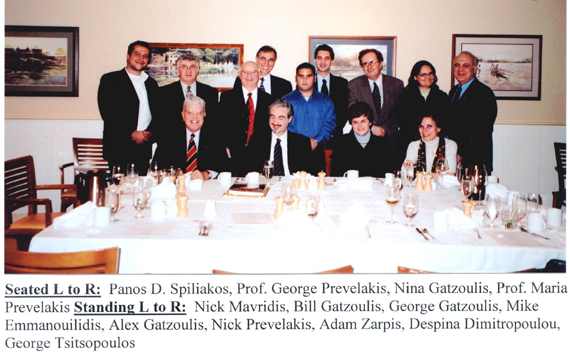 On November 13, 2003, senior national and regional officers of the Pan-Macedonian Association Inc had a working dinner with Dr. George Prevelakis, who was named Professor of Konstantinos Karamanlis at the Fletcher School of Diplomacy at Tufts University, his wife Dr. Maria Prevelakis and son Nicholas of BU. The couple just arrived from France, where Dr. Prevelakis was University Professor at the prestigious Sorbonne University.

The dinner, hosted by
Supreme Vice-President Panos D. Spiliakos
, gave the opportunity to the leadership of the Pan-Macedonian Association and Drs. George & Maria Prevelakis to get to know one another, exchange information about their respective programs for the coming year and explore ways of sponsoring joint educational presentations for the benefit of the omogenia and the general public. There was also an extensive review of the Macedonia issue within the context of the geopolitical circumstances of the Aimos (Balkan) Peninsula and greater Southeastern Europe. In addition, the Pan-Macedonian officers reported on a September Symposium at Columbia University on the Ilinden uprising and the sponsorship of a Pan-Macedonian Panel on "State-Sponsored Ethno-genesis and the Macedonian Question" at the upcoming 9th World Conference of the Association for the Study of Nationalities (ASN) in April 2004. The Conference is expected to attract over 700 academics from around the world.
A great chemistry among all the participants created a warm and friendly environment and lively and most productive exchanges that lasted late into the night. The unanimous consensus at departure time was to promote and make known Hellenic history, language and culture.
Present at the dinner also were Pan-Macedonian Supreme Secretary Nina Gatzoulis, New England District Governor of George Tsitsopoulos, Chairman of Strategic Planning George A. Gatzoulis and Alex Gatzoulis, Bill Gatzoulis, President of PAIDEIA of NH, Despina Dimitropoulou, President of the Federation of Hellenic-American Societies of New England, Mike Emmanouilidis, VP at UBS, Adam Zarpis, Assistant Manager at Citizens Bank, and MIT student and Ph.D. candidate Nick Mavridis.