The Liturgy of St. John Chrysostom as a text is central to Orthodox worship and is the most frequently used. St. John Chrysostom (c347-407 A.D.) was born in Antioch and became a Priest in 386. In 398 he was made patriach of Constantinople where he quickly gained a reputation for his eloquence, his name in Greek and Russian is literally "Golden Mouth." Rachmaninoff composed his Liturgy of St. John Chrysostom in July 1910. In a letter to his friend, Nikita Morozov, Rachmaninoff stated: "I have been thinking about the Liturgy for a long time and for a long time I was striving to write it. I started work on it somehow by chance and then suddenly became fascinated with it. And the I finished it very quickly. Not for a long time have I written anything with such pleasure."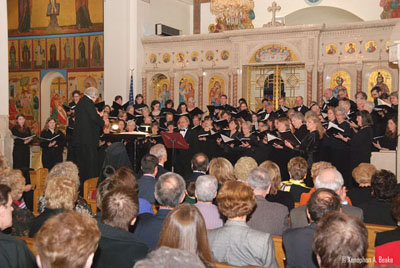 The capacity audiences at both performances were delighted by the music and the elegant receptions which followed each performance. Photo by Xenophon A. Beake.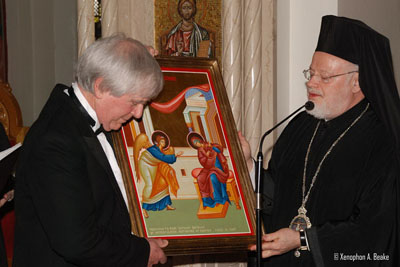 Anatoli Panchoshny, the bass soloist who delighted the audience with his deep voice, was most pleased to receive an icon from Metropolitan Methodios. Photo by Xenophon A. Beake.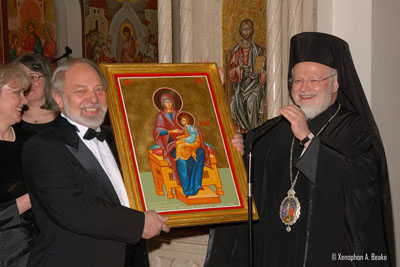 Prof. Anthony Antolini , the conductor of the Rachmaninoff Festival Choir, was delighted to receive an icon from Metropolitan Methodios at the conclusion of the second concert. Photo by Xenophon A. Beake
The first American concert performance of a portion of Rachmaninoff's Liturgy was given in New York on January 24, 1914 by the male choir of the Russian Cathedral of St. Nicholas at Symphony Hall. The program was repeated a week later at Harvard University and featured six movements of Rachmaninoff's liturgy and six of Tchaikovsky's.

The Rachmaninoff Festival Chorus, numbering about 80 singers, is made up of the combined membership of Down East Singers and the Bowdoin College Chorus, both of which are conducted by Dr. Anthony Antolini, one of today's leading specialists in the development of transliterations and "singing" translations of Russian choral music.A member of the music faculty at Bowdoin College, Prof. Antolini published the first modern edition or Rachmaninoff's Liturgy of St. John Chrysostom in 1988 and toured the East Coast of the United States and major cities of the former USSR with acclaimed performances of the work

Anatoli Panchoshny is the choir's bass soloist. Born in Russia and now residing in the United States, Panchoshny studied voice at Moscow's Gnesin Institute, where he received a master's degree and has received a laureate at a Russian national competition. He has performed as a vocal soloist with the Moscow Philharmonic in venues throughout the former Soviet Union and abroad, touring to more than 20 countries worldwide. With a wide-ranging repertoire that includes Russian, Ukrainian and Italian folk songs, Panchoshny has performed the art songs of Schubert, Schumann, Liszt, Ravel and other Western European composers, as well as the song literature of Tchaikovsky, Rachmaninoff, Moussorgsky, Prokofiev, Shostakovich and other Russian composers.